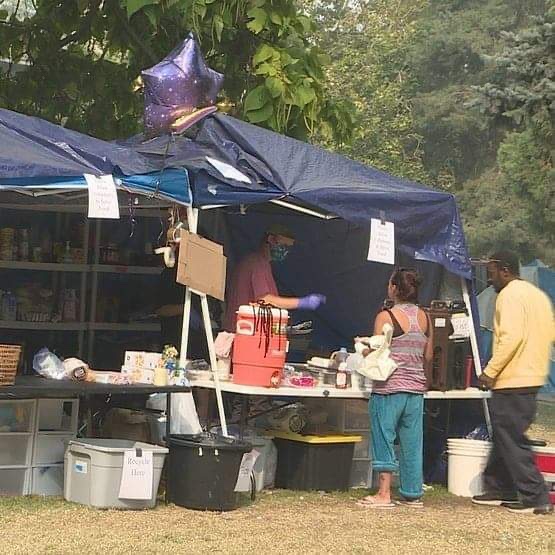 by The Law Offices of Justin Rosas Facebook
Press Release Regarding the Hawthorne Mutual Aid Camp
From Eight of Those Arrested on September 22, 2020
As a group working closely to provide aid to the homeless, several of my clients have repeatedly witnessed the displacement, ticketing, and arrest of homeless residents throughout the Rogue Valley for sheltering in public places over the last six months. This is after an announcement was made by the City of Medford that the homeless would be permitted to shelter in place along the Bear Creek Greenway during the COVID-19 pandemic. Local shelters are almost always full and have long waitlists, resulting in greater hardship and instability for our most vulnerable community members. As our valley confronts the heartbreak of having over 2400 dwellings and hundreds of businesses burned and air quality that was as hazardous as ever, we also have an opportunity to reflect on those who lose the places they call home five to ten times in a single year due to raids on their tent encampments by the City.
In the moments after the Almeda Fire, the largest disaster the Rogue Valley has experienced in recent memory, a group of volunteers established the Hawthorne Mutual Aid program to ensure homeless and anyone displaced by the fire received basic needs, like food and shelter. It was a community-run mutual aid hub providing refuge and support to those affected by the Almeda Fire. This mutual aid was no different than any of the other mutual aid programs that popped up through the good deeds of many around the valley for those in need.
Through relentless efforts, the volunteers provided food, tents, bedding, sleeping bags, a sense of safety and community, some minor medical care and access to mental health crisis care among an estimated 100 displaced, houseless or disenfranchised people. People were welcome whether they had been previously houseless, lost their dwelling due to fires, or had a house that was still standing but needed a little support during a difficult time. They never participated in excluding anyone from aid nor did they withhold supplies from anyone. In light of already sparse resources for the houseless community, my clients all understood the necessity to provide relief until more permanent solutions could be secured. As the camp continued to grow, other groups attempted to co-opt the message of mutual aid and claimed the park was full of "Antifa." Conservative militant groups came to monitor the activities and threaten the volunteers and the homeless. Groups started to livestream the events. None of this was envisioned by the Mutual Aid program – and the program fell victim to the divisiveness pervading our society. Caring for those most vulnerable should not be a political issue in any way.
On the morning of September 20, the Medford Police Department delivered a notice to those camped at the Park that they would be prohibited from camping there starting at 8:00 am on the 28th. They came back the following morning, the 21st, with new notices, changing the date of the evictions to September 22, the following day. The shelter options given to those homeless were completely full as usual, and as usual the City of Medford empowered the Medford Police Department to displace, ticket, and arrest houseless community members who had nowhere else to go. The City's proclamation that 34 people were connected with Rogue Retreat is at best partially false as there were no open spaces at Rogue Retreat's low-barrier shelters, those people were just placed on a lengthy waitlist. All shelters were full and had a waitlist, except the Gospel Mission which has strict admissions policies including agreeing to observe Christianity for at least a two-year period. Forced displacement requiring such an agreement when no other local low-barrier shelter vacancy exists is a blatant violation of the "cruel and unusual punishment" clause of the US Constitution's Eighth Amendment. This is based on clear legal precedents including the case of Martin v. City of Boise and the recent decision against the City of Grants Pass.
On the morning of the 22nd, the group of Hawthorne Mutual Aid volunteers, two members of media and legal observers were at the Park to make sure the homeless and disenfranchised were not going to be unlawfully treated by MPD. Within minutes of the officers' arrival, they arrested 11 people, including homeless, volunteers, and at least two members of the media. The first arrests appeared targeted at volunteers and media in an effort to prevent them and non-for-profit organizations from documenting the raid on the park. There was no "media staging area" or contact with any of the media informing them of such an area. There was no staging. There was no area. There was no information shared to the media beforehand about where to be. No notices were posted around the park. One of those arrested was given five seconds to leave the park, he started to walk out and he was grabbed when the officer shouted "3." One of the disabled and homeless was arrested with force and left in a medical emergency without care, vomiting inside a transport van that had five other occupants, none of whom were offered masks, water or space while the disabled man's medical needs continued to be ignored. Those arrested were held for more than 9 hours after posting bail for the minor municipal violation of Trespassing for which hardened criminals are usually issued citations. They were harassed, they were denied medical treatment, access to a phone call, water, basic necessities. One of them was shoved by a jail guard.
The destruction of this humanitarian aid camp is emblematic of the larger social realities of systemic denial of basic rights to our most vulnerable communities. Marginalized communities invent solutions, projects, and initiatives designed to better their circumstances in the midst of an onslaught of social and environmental challenges. Rather than support, engage with, or learn from the remarkable emergence of mutual aid at a place like Hawthorne Park, the city government actively sought to destroy the initiative without engaging those organizing it. At a time when our valley is deeply disrupted by ecological devastation, the unlawful closure of city parks, removal of basic liberties and arrest of well-meaning local community members who work in all walks of life and largely have no criminal history without so much as a conversation or an attempt to bridge gaps is a tragedy. With only lip service towards providing appropriate care for every member of our community and with no attempt made to honor the valuable work of these community volunteers, it is an even more tremendous tragedy when you consider the effects on those displaced with nowhere to go. My clients remain committed, however, to the continual fight for justice and dignity for everyone.
Collectively, we call on the City of Medford, Jackson County and our community to come together and have an honest conversation about the resources that are available to our most vulnerable and come up with humane, Constitutional, lawful and caring solutions instead of using the jail doors to shelter those who are not easily kept on lengthy waitlists for shelters with stricter behavioral requirements than our own homes. Due to those issues, we are filing a civil claim against the City, MPD and the Jail for this unconstitutional conduct – the goal being to make our city more humane, responsive and deliberate in dealing with the homeless.
In the words of American hero John Lewis, "We need someone who is going to stand up, speak up, and speak out for the people who need help, for the people who have been discriminated against." As my clients take that stand, we hope the community will stand together with them and fulfill its moral duty to feed the poor, heal the sick, help those who are feeble and protect every precious life in our community.