from AMW English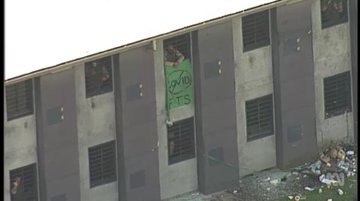 People locked up in a high security Queensland prison began rioting after staff struggled to deliver basic services, including meals and medication, amid a Coronavirus lockdown.
Prisoners at Arthur Gorrie Correctional Centre in western Brisbane have not left their cells for days and have not been able to contact family or their lawyers by phone.
Some prisoners started lighting fires, smashing windows and flooding their cells with water on Monday in an apparent protest at the deteriorating conditions in the already overcrowded prison.
The prison went into lockdown last Thursday after Queensland Health revealed two of its correctional officers were part of a COVID-19 cluster.
Windows smashed, rubbish set on fire
The grounds outside cell blocks at Arthur Gorrie showed their attempt to communicate after prisoners smashed their cell windows and hurled objects outside.
A fire was lit in a cell.