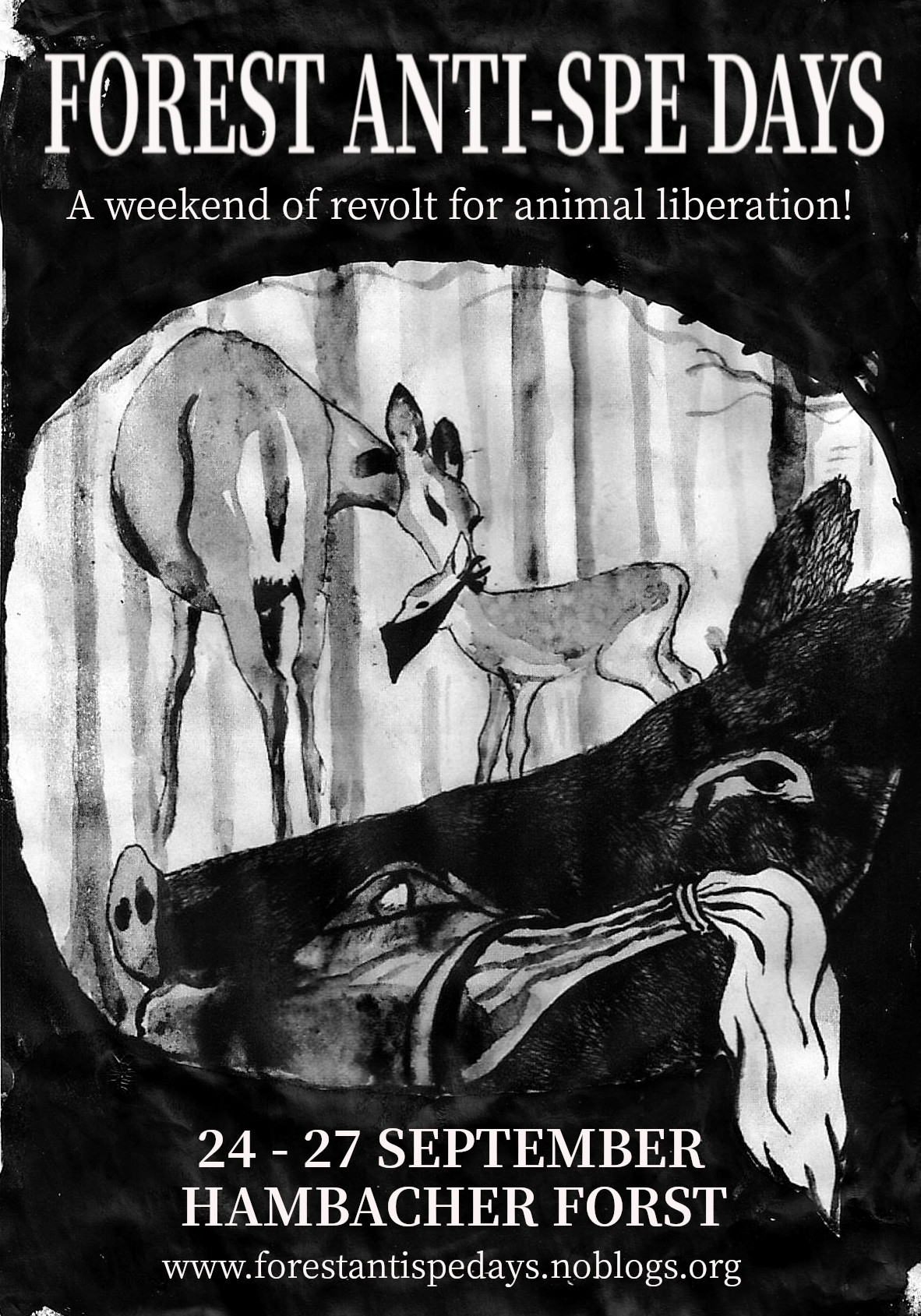 INTERNATIONAL CALL!!
JOIN US IN THE HAMBACHER FOREST FOR A WEEKEND OF DISCUSSION, WORKSHOPS AND REVOLT FOR ANIMAL LIBERATION
24-27 SEPTEMBER 2020
After months of dystopian weirdness and unprecedented state-repression
imposed on the basis of corona, borders are opening up and rage is
exploding around the world. But with potentially no radical
anti-speciesist gatherings in Europe this summer to contribute to the
clash, we felt the need to set a rallying point!
The Hambacher Forest is an ongoing focal point for anti-capitalism and
radical ecology on the continent – let's find each other there and take
the opportunity to share skills and perspectives on how to confront
human supremacy in the current context. In continuation with the
anarchist animal liberation gatherings which took place in Marseille
(2016), Bristol (2017), Bilbao (2018) and Rome (2019), we aim to connect
those who incorporate the fight alongside other animals and their
habitats into a broader struggle against all hierarchies – a struggle
for total liberation.
A list of workshops – both hands-on and more theoretical – is soon to be
announced. We also want to invite you to propose your own, whether over
the coming weeks or more spontaneously once the event begins. Other
contributions in the form of literature, stalls and whatever else are
also warmly invited.
Remember, this event is:
– FREE, including vegan food for the duration of the event
– SELF-ORGANISED, so if you see a job it's yours!
– SQUATTED, taking place in an illegal land occupation
– ANTI-OPPRESSION, so fuck right off if you have
racist/sexist/heterosexist/cissexist/speciesist or otherwise bigoted
views + behaviour
– IN A FOREST, so be ready to camp and respect the ecosystem
More info about what to expect and how to get there will be released on
the following website later on. You can also find translations of this
callout there, soon to include German, French, Italian, Spanish, and
more: www.forestantispedays.noblogs.org
Feel free to contact us with questions or whatever here:
forestantispedays@riseup.net
Spread the world and stay wild!!!