By ART HOVEY/Lincoln Journal Star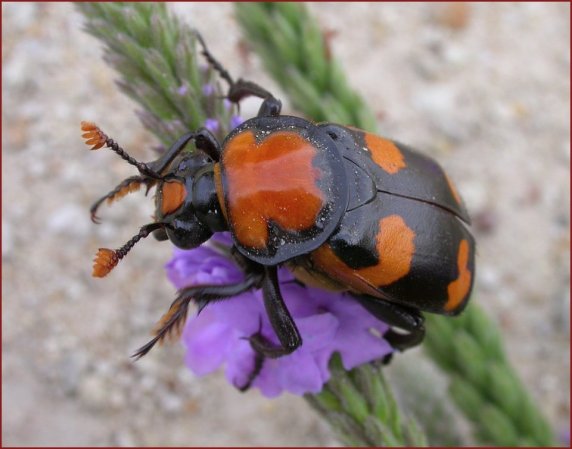 The American burying beetle is a clever critter.
It's known for secreting fluid around the carcasses of birds and rodents in the Nebraska Sandhills to disguise their scent and then using the decaying remains as hatching sites for its eggs.
The endangered beetle is also known for the challenge it presents to construction of the Keystone XL pipeline, a point seized upon again on Tuesday by the Center for Biological Diversity and other pipeline opponents from environmental ranks.
Representatives of Friends of the Earth and the Western Nebraska Resources Council joined the diversity group's Noah Greenwald in supporting a decision by the U.S. Fish and Wildlife Service that restricts beetle recovery permits issued to researchers from being used for purposes other than research from now on.
Greenwald denied that the latest concerns raised by the three organizations were just a delaying tactic on pipeline construction.
"To us it's ensuring that endangered species are not unduly harmed in construction of this pipeline," he said.
July 17 action by the federal agency is meant to address a situation in which Wyatt Hoback, a permit holder and a University of Nebraska at Kearney biologist, contracted with pipeline builder TransCanada last year to remove some 2,400 beetles from the pipeline's path.
Greenwald said the permit decision makes clear that recovery permits "are not for mitigation for a development project, not to clear a path for destructive development."
The same three environmental groups filed a lawsuit against the Fish and Wildlife Service in Omaha last year, alleging that the federal agency was wrong in authorizing beetle removal from the proposed pipeline route before TransCanada had a separate presidential permit for construction.
The lawsuit was dismissed when President Barack Obama denied the construction request in January, citing ongoing work by the Calgary-based company and the Nebraska Department of Environmental Quality on an alternative route meant to protect fragile Sandhills soil and the most porous parts of the Ogallala Aquifer.
Bob Harms, based in Grand Island as a Fish and Wildlife biologist, confirmed Tuesday that the thrust of agency action means that "capture relocation can still occur, but it can't occur under a recovery permit."
Harms said Fish and Wildlife regularly steps in to protect endangered species when they're in path of federally authorized highway projects and other construction jobs.
What was done last year was seen as "a good way of getting beetles and moving them away from a site that would get a lot of disturbance, so they would not be destroyed."
Enlisting Hoback and his team in those efforts was nothing more than a way to take care of a big work load with a small staff.
More recently, "I wouldn't say we put Wyatt on a short leash," Harms added. "We regard this as a resource issue. We didn't have enough biologists here to protect the beetles."
TransCanada spokesman Shawn Howard brushed aside environmentalist claims that the new Fish and Wildlife stance would set back efforts to start construction on the north end of the pipeline from the oil sands of Alberta through Nebraska in 2013 if a presidential permit is granted.
"Last year we worked with Fish and Wildlife," Howard said. "They approved us for mitigation procedures put in place for a species at risk, which is what we're supposed to do.
"There's plenty of time to deal with this and we've shown that we can do it successfully before."
Hoback joined the latest beetle dialogue late Tuesday afternoon from the beetle's Sandhills habitat, where he was busy logging where they are and where they aren't.
In doing so, he was careful to note that he's on nine-month contract at Kearney, "so in the summer I'm an unpaid employee."
"I work in the summer on issues relating to the burying beetle and I work with private companies to benefit endangered species."
He also pointed out that the beetle is active above ground and most available for capture in June, when it's looking for places to lay eggs, and in August, when it's looking for food and places to spend the winter.
He said the limited time window is important in understanding why capture was done when it was done last year, even though TransCanada did not have its presidential permit yet.
Had the permit been granted soon thereafter, construction might have started at a time when capturing the insects would have been much more difficult.
"So," said Hoback, "I feel like we acted in the best interest of the beetle."