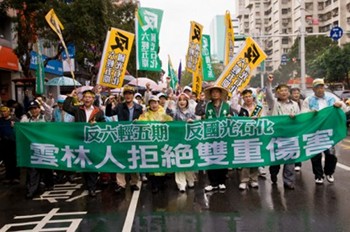 Taiwan's protesters: Is Malaysia next?
After protest stalls giant petrochemical in Taiwan, plans are to build it in Malaysia
A long-running saga has come to the end for a US$12.8 billion attempt by the Kuokuang petrochemical company , which is owned by Taiwan's 43 oercebt state-controlled CPC Group, to build a refinery for the production of petrochemical products such as ethylene, benzene, toluene and xylene. It is the victim of environmental protest. The government instead is now seeking to export its environmental problem to Malaysia.
In early July, the state-run oil refiner CPC Corp, without fanfare, signed an investment agreement with Malaysia's Johor state government to build the integrated refinery and petrochemical plant in the village of Pengerang, Johor. Preceding the move was close to a decade of fierce environmental protest in Taiwan, forcing the island's government to choose between major business interests on the one side and nature and health on the other.
Written by Jens Kastners. To read full article visit source as cross-posted from here