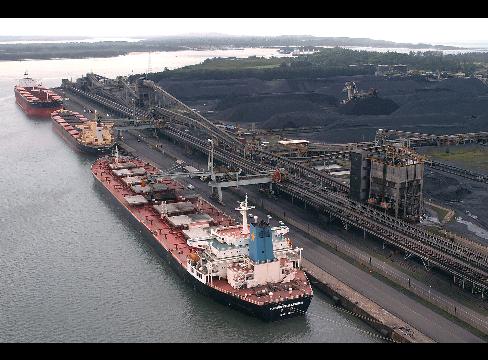 By SASHA / Earth First! Journal Portland Field Office
Last week, a rupture occurred with the coal industry world that shocked activists. Rio Tinto, an Australian company, which owns the US-based subsidiary Cloud Peak Energy, a 50:50 partner in the Decker Mine in the Powder River Basin, sued its partner and fellow Australian company, Ambre Energy, over its intention to ship coal out of the Pacific Northwest.
Ambre is investing in two export coal terminals out of the six that are proposed in Oregon and Washington, and Rio Tinto is suing, because Ambre's continued coal exploitation and desire to open new export routes runs afoul of Tinto's plans to shut down and reclaim the Decker Mine. Rio Tinto does not want to invest in a "dramatic" redevelopment of the Decker mine, in accordance with Ambre's plans, without being able to share in the profits of exports to Asia.
All of this is taking place in the shadowy context of the Trans Pacific Partnership (TPP), a secretive trade deal between the US and several other Pacific Rim partners, including Australia, New Zealand, Malaysia, Singapore, Brunai, Vietnam, and probably Japan. Australian coal companies invested in the US will have investor protections, making industry regulation virtually impossible. As in the notorious case of US-based Ethyl Corporation's NAFTA lawsuit against Canada for passing a health and safety ban against a neurotoxic fuel additive, corporations based abroad, like Ambre, will be able to sue the US for barriers to trade if activists are able to get regulations passed for health and safety or environmental reasons. This includes not only the mines, themselves, but most importantly, the coal export terminals, which present the clearest trade-related infrastructure being contested today.
Beginning in March 2011, protests throughout the area, from Montana to Salt Lake City to Portland, Oregon, and the City of Seattle, began to touch off on an almost-monthly basis. Earlier this year, Oregon's Governor Kitzhaber along with Senator Merkley demanded a review of the environmental impacts of coal exports. Not to be outdone, the City of Seattle recently declared itself opposed to new coal export terminals, and Washington Democrats passed a resolution against coal shipments. Even activists from British Columbia have stood up against exports of coal, blockading a railway on May 6 and stopping shipments from Wyoming before 14 arrests cleared the tracks.
One question that the TPP opens up is: 'will free trade agreements be involved in the future of arbitration between corporations fighting over the rights to exportation to protect against barriers to trade?' Is it not possible to imagine free trade agreements, which empower corporations to sue governments in the event of lost profit due to barriers to trade, becoming the final adjudicator of lawsuits like the one happening over the Powder River Basin today, where Ambre, should they lose this case, would be able to appeal the verdict under TPP investor protection statutes and sue the US for lost profits as a result of such a verdict?
Comprising 40% of the market, Australia's largest coal customer is Japan, which is becoming increasingly involved in the TPP talks.  South Korea comprises Australia's second highest coal customer, at 16% of the market share, and Taiwan takes third place, at 10%. Already, Ambre and other coal companies have declared that the coal mined in the Powder River Basin is destined for Asia, signing a $4.4 million deal with South Korean utilities for coal shipped out of their Morrow Pacific coal export terminal, which is currently underway.
Ambre is mining coal in the Powder River Basin with the desire to ship it, tax-free, to Japan, Taiwan, and South Korea, utilizing the TPP and the recently signed Free Trade Agreement with South Korea as its cushion. This opens up even more questions, not least of which being whether or not the US is becoming an export-colony of raw materials for multinational corporations based abroad. Whereas the early free trade agreements, particularly NAFTA, opened up the question of foreign imports impeding local production, the TPP has breached the problematic of export-oriented economics and an incoming economic dependency that is in lock-step with the decline of US hegemony and rise of the Brazil, Russia, India, China, and South Africa bloc (BRICS).
As for the problem of climate accords and carbon emissions that such "dramatic" increase of coal production and exportation will cause, last year, TPP partner, Malaysia spent $7.7 million in public relations money to spread the notion that palm oil comprises "clean energy". Although it is estimated the a gallon of palm oil costs more in carbon emissions than an equivalent amount of tar sands oil, palm oil plantations may technically be counted for benefits under REDD agreements and be treated as carbon credits as well, depending on upcoming decisions by the EPA. The result would be rampant habitat destruction of native rainforest to match the extraction of billions of tons of coal from the Powder River Basin, all protected under international trade treaties as well as climate accords.
Portland Rising Tide is continuing to promote direct action in response to coal exports, while the Citizens Trade Campaign and Public Citizen have already begun mobilizing against the TPP. If this is the way the trade winds are blowing, we must all stand up, and say, as Marcus Garvey once said, "Look for me in the whirlwind!"
Sasha is a member of the Portland Bureau of the Earth First! Journal and a moderator of the EF! Newswire (newswire.earthfirstjournal.org). He is also a member of Global Justice for Animals and the Environment (gjae.org), and the editor of a new anthology about global land-based movements. He can be reached at lilac@earthfirstjournal.org.