from the Herald Sun / Australia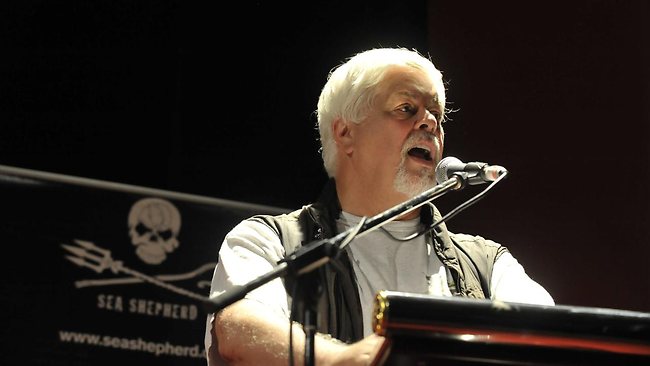 Captain Paul Watson was arrested in Germany over the weekend and will be extradited to Costa Rica on an outstanding arrest warrant from an incident that occurred in 2002.
In a statement, Sea Shepherd said the arrest was related to a "violation of ships traffic" incident and involved a Costa Rican vessel called the Varadero in Guatemalan waters illegally hunting for shark fins.
Reports claim Captain Watson faced an outstanding warrant for attempted murder in relation to the incident.
The group says Mr Watson and his ship intercepted the Varadero ion the orders of the Guatemalan Government but later encountered a Costa Rican gun boat.
"The specific "violation of ships traffic" incident took place on the high seas in Guatemalan waters, when Sea Shepherd encountered an illegal shark finning operation, run by a Costa Rican ship called the Varadero," the statement said.
"On order of the Guatemalan authorities, Sea Shepherd instructed the crew of the Varadero to cease their shark finning activities and head back to port to be prosecuted.
"While escorting the Varadero back to port, the tables were turned and a Guatemalan gunboat was dispatched to intercept the Sea Shepherd crew.
"The crew of the Varadero accused the Sea Shepherds of trying to kill them, while the video evidence proves this to be a fallacy.
The European Parliament Vice President Daniel Cohn Bendit and the European deputy Jose Bove are assisting Captain Watson while he in jail.
"Our hope is that these two honorable gentlemen can set Captain Watson free before this nonsense goes any further. The European Sea Shepherds have also mobilized to support Captain Watson," the group said.