by the Center for Biological Diversity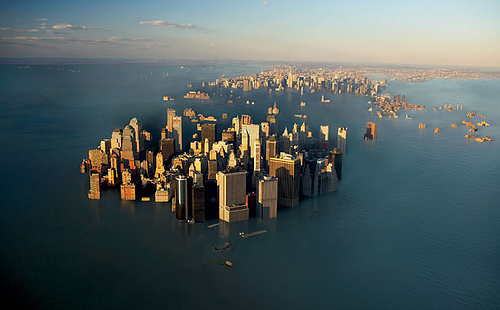 SAN FRANCISCO— Sea levels on the East Coast are rising three to four times faster than the global average, putting several major U.S. cities at increased risk of flooding and storm surges, according to a new study by the U.S. Geological Survey. The findings were published in the journal Nature Climate Change.
The dramatic acceleration in sea-level rise, which is driven by climate change, poses an enormous threat to Boston, New York and other urban centers, as well as to coastal wetlands, beaches and other vulnerable ecosystems, according to scientists with the Center for Biological Diversity.
While scientific experts predict that global average sea levels will rise by 2 to 4 feet or more by 2100, sea levels along a 620-mile East Coast "hotspot" could increase by an additional foot, according to the USGS study.
"This is an alarming study that shows just how fast climate change is transforming our planet. The waters are rising, and it's time to stop making excuses and start controlling greenhouse gas pollution," says Shaye Wolf, climate science director at the Center, which has advocated for years for rapid, major cuts in greenhouse gas emissions. "To get sea-level rise under control, President Obama and our other leaders need to act now to reduce emissions and tackle global warming."
The study follows a report by the National Research Council that found California will be particularly hard-hit by rising seas on the West Coast, with sea levels expected to increase by as much as 1 foot in the next 20 years, 2 feet by 2050, and more than 5 feet by the end of the century.
Deep and rapid greenhouse gas cuts are needed in order to avoid the most extreme impacts of climate change, including damaging sea-level rise; the technology and legal tools to implement deep reductions are available today, with only political will absent. In the United States, the Clean Air Act is our leading tool for curbing greenhouse gases. For four decades, the Act's successful programs have reduced dangerous pollution, saving many thousands of lives and achieving major public-health gains while saving money and benefiting our economy.
The law is now under attack from polluters and their allies in Congress, and to date the EPA's implementation of the Act for greenhouse pollution has been too slow and tentative to address the urgency of the challenges we face.