Controversial gas- and oil-drilling method is under increasing scrutiny in the state of California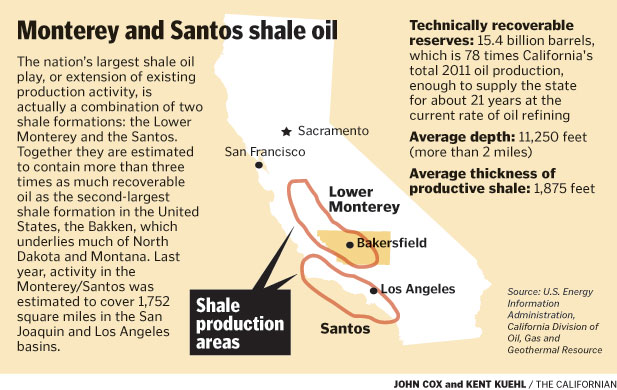 Dave Garcia recalled the first time he showed the widely acclaimed 2010 documentary film Gasland—which looks at the effects of natural-gas drilling in the Marcellus Shale located beneath New York, Ohio, Pennsylvania and West Virginia—at a March 2011 house party hosted by the local Yahi Group of the Sierra Club.
"I realized then basically how big of an issue this is, and how dangerous it is," he said of hydraulic fracturing—or "fracking"—the controversial method of gas extraction that is the primary focus of the film. Garcia has since screened the film several times, including at the Pageant Theatre and at a November 2011 California Student Sustainability Coalition conference at Chico State, at which he spoke in place of the film's director, Josh Fox, who was double-booked.
It was Gasland that gave the general public those signature disturbing images of residents of Dimock, Pa., lighting their tap water on fire as a result of the high amount of methane present in it due to contamination from fracking chemicals that had seeped into nearby groundwater.
In addition to being fingered in more than 1,000 documented cases of water contamination nationwide, according to the Center for Biological Diversity, and related health problems, fracking has also been implicated in a number of earthquakes, such as the dozen in Ohio that made international news earlier this year. Air pollution—such as that created by toxic petroleum hydrocarbons emitted from fracking wells in Garfield County, Colo.—is another serious concern.
Since that Sierra Club house party, Garcia—former chairman of the local chapter of the Sierra Club, ex-board member of the Butte Environmental Council, and a retired California State Park ranger—has become the go-to guy in the Chico area for information related to fracking, largely due to his tireless efforts to learn as much as possible about this means of extracting increasingly difficult-to-access pockets of oil and natural gas by high-pressure injection of a mixture of enormous amounts of water, numerous unspecified chemicals and sand deep underground.
Garcia recently returned from a day-long conference in Sacramento, hosted by the Environmental Working Group (EWG) and attended by representatives from a number of prominent environmental groups, at which the main topic of discussion was the future of fracking in California.
Yes, California. Contrary to what some might think, the practice of fracking is not limited to the eastern states and Colorado, Texas, Utah and Wyoming. It is alive and well in the Golden State—and has been for some time. Fracking has been going on in California since the 1950s, according to an article published in the Sacramento News & Review (see "Fracking in Sacramento: Gasland cometh?" Aug. 25, 2011). Though mostly confined to the southern counties of Kern, Los Angeles, Santa Barbara and Ventura, fracking is also taking place in Monterey County (the Monterey Shale is rich in extractable subterranean resources) and Sacramento County.
Closer to home, Denver-based gas and oil company Venoco Inc. operates fracking wells "in the Grimes gas fields in Sutter County and Willows field in Glenn County," as SN&R correspondent Cosmo Garvin wrote in March of this year (see "Oh, frack!" March 29, 2012).
Though there is no evidence of fracking taking place in Butte County, Garcia is concerned about the encroachment of fracking concerns into the North State. "Fracking is currently producing most of the natural gas [in this country], because they're going after areas that were previously unattainable," Garcia said. "Currently, oil and gas companies are going throughout California approaching farmers and other rural people and trying to buy their mineral rights." Garcia said that when he appeared on a call-in show last year on local community radio station KZFR, "this farmer [from Colusa County] called me up and said Venoco wanted to buy his mineral rights and he said, 'no.'"
Despite the apparent lack of fracking here in Butte County, "the big issue is, 'Is the water here in Northern California safe?'" said Garcia. Not only might nearby fracking operations cause contaminated wastewater to pollute Northern California's increasingly in-demand groundwater, but the need for water to frack a well is so high—roughly from 500,000 to 5 million gallons or more of fresh water per well—that Garcia is also concerned that it is just a matter of time before local water is purchased and trucked away for use by frackers, as is done in such places as Fort Lupton, Colo. In November 2011, the Denver Post reported that "[o]il and gas drillers have bought at least 500 million gallons of water this year from cities for use in hydraulic fracturing" in the Fort Lupton area.
In drought-stricken Texas—the Lone Star state is big on fracking—"oil companies are outbidding the farmers for water" to use to frack wells, said Garcia.
Garcia is a supporter of Assembly Bill 591, the "transparency bill" co-sponsored by California Assemblymen Bob Wieckowski and Roger Dickinson currently in committee in the state Senate that would require oil and gas companies to disclose what chemicals are being used to frack a well, as well as when and where fracking is taking place and how the wastewater will be handled (evaporation pools, sometimes unlined, are one method on record, as is sending the toxic water to wastewater treatment plants, which are not equipped to process some of the additives, such as heavy metals and radioactive isotopes). Presently, well permits are issued with no such stipulations. (While FracFocus.com, an industry website launched in April 2011, provides some disclosure of information on fracking operations, participation is strictly voluntary, and limited.)
"I would like to see a moratorium on fracking, to find out more about it," Garcia offered. The state of New York placed a moratorium on fracking in 2010. "But I would really like to see it banned, like Vermont [and, more recently, Alabama] just did."