Amendment will Expand Border Patrol Access and Disable Environmental Protections
by Phil Taylor, E&E reporter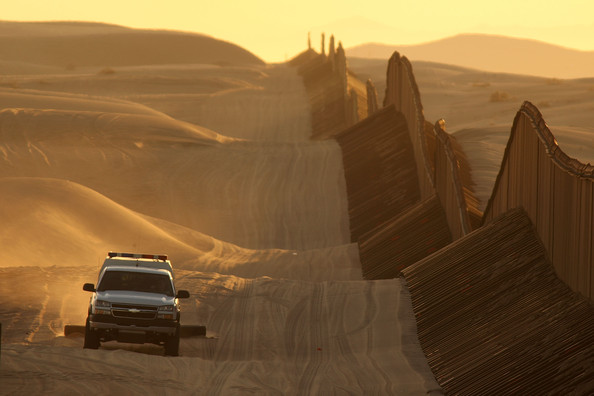 A Utah Republican today announced changes to a bill designed to bolster national security that would expand the power of the Border Patrol on public lands.
Rep. Rob Bishop is sponsoring an amendment that would replace H.R. 1505 and give border agents new powers on public lands within 100 miles of the Mexican and Canadian borders.
The amendment comes a week before the House is scheduled to take up a package of more than a dozen public lands bills sure to spark heated debate among environmentalists, their Democratic supporters, and House Republicans who argue regulations on public lands have weakened national security, stifled economic development and limited motorized access (E&E Daily, June 13). The House Rules Committee this afternoon said it will hold a hearing Monday evening to determine which amendments may be offered to the bill.
Environmental groups today said they remain strongly opposed to the bill, arguing it would allow border police to damage sensitive wildlands and could close lands to hunters and anglers. The bill passed out of the Natural Resources Committee in October on a party-line vote (Greenwire, Oct. 5, 2011).
"This bill signals that many in Congress are still intent on rolling back fundamental environmental protections," said Jane Danowitz, of the Pew Environment Group. "We call on House members from both sides of the aisle to reject this measure."
But Bishop — who chairs the Subcommittee on National Parks, Forests and Public Lands — today reiterated his argument that illegal immigrants pose a far greater threat to public lands than the Border Patrol, whose access he said has been unnecessarily delayed by Interior and Agriculture department agencies.
"The rationale associated with keeping the Border Patrol out of these areas is actually self defeating," he said today in a statement. "Drug traffickers couldn't care less about environmental sensitivities, evidenced by the vandalism and environmental destruction they leave behind."
Bishop last month told E&E Daily that he asked House leaders to delay a vote on the bill while he addressed concerns from Democrats and Hispanic members (E&E Daily, May 10). A vote on the public lands package could come as soon as next week.
His amendment states that lands agencies shall not "impede, prohibit or restrict" the Border Patrol from preventing "all unlawful entries into the United States, including entries by terrorists, other unlawful aliens, instruments of terrorism, narcotics and other contraband through the international land borders of the United States." The current version of the bill says agencies must not prevent the Border Patrol from achieving "operational control," as defined in the Secure Fence Act of 2006.
The amendment also removes about half the laws that would be lifted within 100 miles of the border but maintains key environmental statutes including the Endangered Species Act, National Environmental Policy Act and Clean Water Act.
The Wilderness Society today issued a release calling the bill a "land grab" that could open national parks, wildlife refuges, wilderness and other public lands to construction and road building. It listed Joshua Tree, Acadia and Glacier national parks and Minnesota's Boundary Waters Canoe Area Wilderness among the 49 million acres that would be affected.
"H.R. 1505 is an overreach that would adversely affect everyone who enjoys America's public lands," said David Moulton, the group's senior legislative director, in a statement. "The bill would allow road building, construction and development on lands that are loved for hunting, fishing, hiking and other recreational activities."
The group noted that Homeland Security Secretary Janet Napolitano told lawmakers the bill "is unnecessary, and it's bad policy."
In contrast, the National Association of Former Border Patrol Officers, which represents agency retirees, supported the bill in testimony before the committee last year.
A Government Accountability Office report in fall 2010 found that while most Border Patrol agents said activities have been delayed or restricted as a result of land management laws, almost all said the overall security status of their patrol area is not affected.