Consider yourself invited to join the eviction resistance at Pennsylvania fracking site
A week into the resident-led occupation of a mobile home park in Jersey Shore, PA, the following message has been circulated by the fine folks with Occupy Well Street. Basically, it's on…
Save Riverdale:
Urgent Call for Support
"I was here to protect my home.  Within a week I realized why the hell would I protect a house with water I can't drink.  It's still about the house, but it's more about this land and that water. As long as you're willing to stand, stay here, and bring more: this isn't over yet" –Riverdale Resident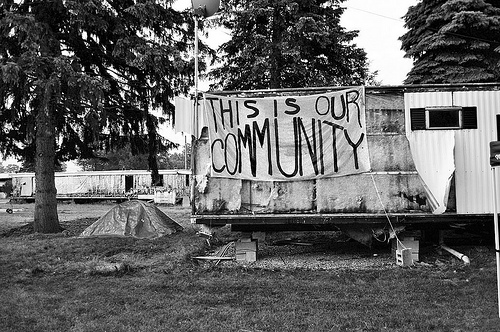 For 7 days, Riverdale Mobile Home Community and our group of volunteers have impeded the construction of a water withdrawal site on the Susquehanna River, in Jersey Shore, PA. In the process, our concept of community has developed, as this community on the frontline and its supporters have come together to creatively meet their needs. This place means more to all of us than we could have possibly imagined. It is a truly rare opportunity to fight for community and environmental rights.
None of this would have been possible without support from outside the park, BUT RIGHT NOW WE NEED PEOPLE ON THE GROUND. Aqua America has increased pressure, and petty attempts at intimidation have begun, as word spreads about the resilience of this community. We are holding strong, but WE NEED YOUR HELP, ASAP!
If you have one day, or twenty, please come to Riverdale to contribute to this community. Get in touch with us if you're trying to find rides. We will try to connect you. It's beautiful here, you should come share it and be a part of preserving this community.
With love and solidarity,
The Volunteers at Riverdale
For information, photos, videos, check out: SaveRiverdale.com