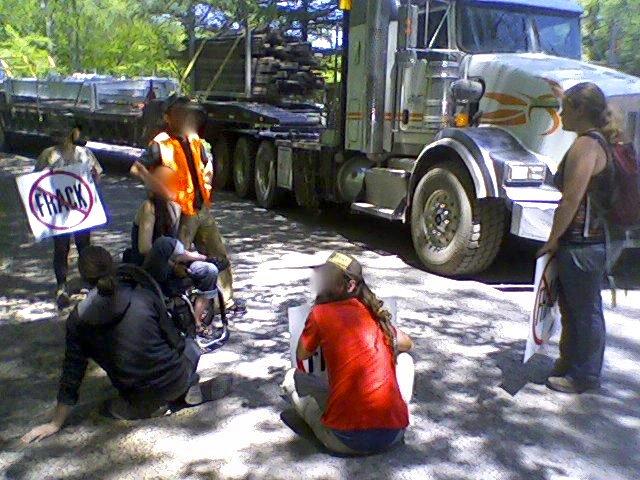 On Saturday, May 19th, members of Occupy Well Street and friends blockaded a drill rig move from entering a frack site for 2 hours in rural Lycoming County, PA.  This drill rig blockade happened as part of the Day of Action Against Extraction.
As activists blocked the rig from entering the frack site, in order to construct and commence another deadly drill operation, the trucks carrying the rest of the parts of the rig were backed up for hours along State Route 118.  After a state trooper announced he supported the right to protest, no arrests were made.
Why did Occupy Well Street and friends blockade the out-of-state truck carrying a drill rig?  
We are tired of our land and communities being divided and conquered by gas corporations in pursuit of ever higher profits.  The water that flows through our bioregion is being sold off for fracking as fast as those granted responsibility for our rivers and watersheds can rubber stamp withdrawal permits.  Despite promises of gas drilling and fracking operations creating a surplus of local and regional jobs, our region is teeming with highly paid out of state rigworkers, engineers and other "specialists."  The rig truck blockaded on Saturday held license plates from Texas, and Alberta (where tar sands oil extraction is heavily under way).  We are being lied to and manipulated, but on Saturday we showed that we will no longer be passive participants in this destruction. 
Countless trucks are clogging our roads, the air is filled with pollutants, the water is becoming undrinkable, land and forests are being cleared, and communities are suffering from conflict and illness.
One of the main goals of the Occupy Well Street campaign is to create solidarity among all those resisting energy extraction.  Our communities may be separated geographically, but voices and actions can offer effective support between regions and allow us to continue sustaining our struggles against extraction.  We must communicate within and between movements, share information and knowledge, and support each others' efforts in order to grow and evolve.
The last place the gas companies want us to show up is at their fracking sites, pipeline projects, compressor stations, water withdrawal sites, and other important facilities.  The points of production are where the physical damage occurs, and we will be there to stop it.