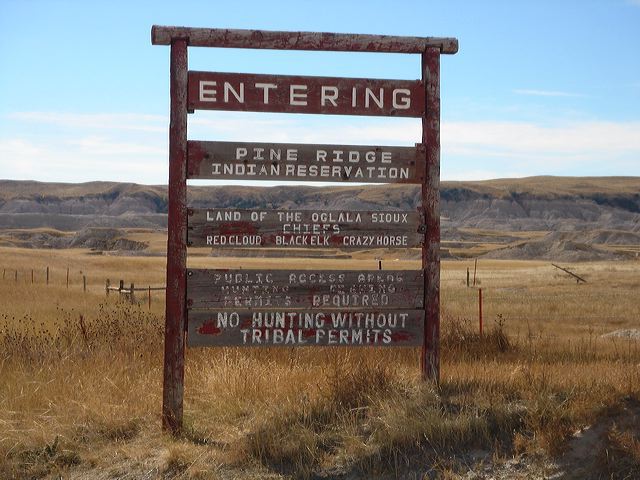 A Day of Action against White Clay, NE
White Clay, Nebraska is an unincorporated village with a population of 14 people in northwest Nebraska. The town sits on the border of the Pine Ridge Indian Reservation, home to the Oglala Lakota (also known as the Oglala Sioux Tribe), only 200 feet from the official reservation border and less than 3 miles from the center of Pine Ridge, South Dakota, the largest town on the reservation. On June 9th, the fight against White Clay continues.
Sale and possession of alcoholic beverages on the Pine Ridge is prohibited under tribal law. Except for a brief experiment with on-reservation liquor sales in the early 1970s, this prohibition has been in effect since the reservation lands were created. White Clay has four off-sale beer stores licensed by the State of Nebraska which sell the equivalent of 4.5 million 12-ounce cans of beer annually (12,500 cans per day), mostly to the Oglalas living on Pine Ridge. These retailers routinely violate Nebraska liquor law by selling beer to minors and intoxicated persons, knowingly selling to bootleggers who resell the beer on the reservation, permitting on-premise consumption of beer in violation of restrictions placed on off-sale-only licenses, and exchanging beer for sexual favors.
Many people have died in the streets due to exposure, as the state of Nebraska fails to address the breaches of state law and countless deaths as a result of dealers in White Clay. As long as the liquor stores in White Clay remain in business, the genocide of the Oglala Lakota people will continue.
Deep Green Resistance Great Plains and other Deep Green Resistances organizers across the country are coordinating support for the Oglala Lakota activists organizing the action against the liquor peddlers in White Clay. We stand with the people of Pine Ridge and the organizers of this action against the continuation of genocide. Stand with us as we send the message: "No more liquor in White Clay!"
On June 9th 1999 two Lakota men, Wally Black Elk and Ron Hard Heart, were brutally murdered in White Clay. It is in their memory that we will march for justice. We are seeking material support, in the form of food and donations for caravans and for the action itself. Additionally, we will be collecting donated fans and air conditioners to bring to elders on Pine Ridge.
March for Justice 2012: Always in Memory of Wally Black Elk and Ron Hard Heart
Date: June 9th, 2012 at 12 pm
Location: Billy Mills Hall, Pine Ridge, SD
If you're interested in attending this day of action, please contact TR Mckenzie, coordinator of DGR Great Plains at trmckenzie@riseup.net or one of the regional organizers:
Eastern Iowa – Nate Adeyemi : adeyemi_dgr_gp@riseup.net or 815 632 7243
Wisconsin – Ben Cutbank: contact@deepgreenresistancewisconsin.org or (262) 208-5347
Omaha/Lincoln, NE – Christie Schoening : tuffenoughtorock@gmail.com
Colorado – Alex Budd : alexbudd@riseup.net or 720 425 4955
Western IA/Eastern SD – T.R. McKenzie: trmckenzie@riseup.net or 605 868 8111
West Coast – Xander Knox: xander_dgr@riseup.net or 253-906-4740