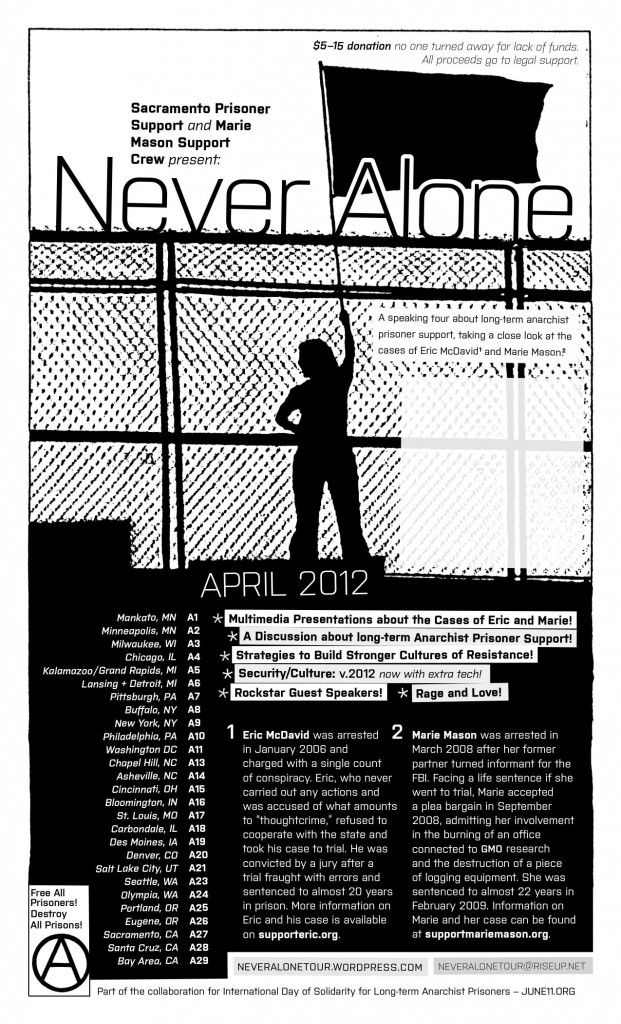 Sacramento Prisoner Support and the Marie Mason Support Crew Announce "Never Alone: National Long-Term Anarchist Prisoner Support Tour" in April 2012. Below is their call to get involved.
"It's 2012. The world is ending. So what are we at Sacramento Prisoner Support and Marie Mason Support Crew gonna do? Go on an epic road trip to talk about prisoner support, of course! Because unless we actually make this the last year of their world, our comrades will still be in there the next.
The nationwide Never Alone tour will be crisscrossing the country in April 2012, featuring the usual suspects speaking about long-term anarchist prisoner support. Focusing specifically on the cases of Eric McDavid and Marie Mason, the tour will mark the spots where the events of these cases unfolded, using multimedia presentations to bring the facts of these cases to light.
As well as raising awareness and support for Eric and Marie, the tour will also feature: strategizing about how to more effectively grow a culture of resistance that can breach the prison walls and sustain us and our friends for the long term, a security culture beyond 101 workshop (updated for 2012, now with extra tech!) and some awesome guest speakers. Truly, you won't want to miss this…
When our friends and loved ones are snatched from us and held captive by the state, we become all too aware that we are never alone. The eyes of the state are always upon us, attempting to silence our voices and still our hands. To keep us from doing the work we know must be done. We must act despite this.
Because we also know that it is imperative that our friends on the inside know that they, too, are never alone. That we will stand by them throughout their time in prison, and welcome them with open arms when they return. That the struggles they were involved in continue on, and that they are empowered to continue on in struggle from inside the prison
walls.
And we know that we can't do this alone. We need the active support of our communities to give us the strength and courage to struggle for our friends and their freedom.
Our friends remind us of what is possible. They remind us that we don't have to wait for permission to do what we know is right. They remind us that we are not powerless. Like Marie and Eric, we are tired of watching all that we love be destroyed by all that we hate. We know what needs to happen.
We are in it for the long haul.
Are you?"
Tour Schedule, April 2012 (Check our website below for more detailed info and locations)
A1 Mankato, MN
A2 Minneapolis, MN
A3 Milwaukee, WI
A4 Chicago, IL
A5 Kalamazoo + Grand Rapids, MI
A6 Lansing + Detroit, MI
A7 Pittsburgh, PA
A8 Buffalo, NY
A9 New York, NY
A10 Philadelphia, PA
A12 Washington, DC
A13 Chapel Hill, NC
A14 Asheville, NC
A15 Cincinnati, OH
A16 Bloomington, IN
A17 St. Louis, MO
A18 Southern Illinois University, Carbondale
A19 Des Moines, IA
A20 Denver, CO
A21 Salt Lake City, UT
A23 Seattle, WA
A24 Olympia, WA
A25 Portland, OR
A26 Eugene, OR
A27 Sacramento, CA
A28 Santa Cruz, CA
A29 Bay Area, CA
Find out more about the tour here
Questions? Trolling? Contact us at neveralonetour (A) riseup dot net.
About Marie Mason
Marie Mason is a loving mother of two and a long-time activist in the environmental and labor movements. In March 2008, she was arrested by federal authorities after her former partner, Frank Ambrose, turned informant for the FBI. Facing a life sentence if she went to trial, she accepted a plea bargain in September 2008, admitting her involvement in two acts of property destruction that occurred in 1999 and 2000 – damaging an office connected to GMO (Genetically Modified Organism) research, and destroying a piece of logging equipment. No one was injured in either act.
On February 5, 2009, she was sentenced to just under 22 years. She is now serving the longest sentence of any "Green Scare" prisoner. Marie is currently being held in an incredibly restrictive unit at the prison in Carswell, TX. Other political prisoners, such as Lynne Stewart, are also housed there. For more information on Marie and her case, please visit
http://www.supportmariemason.org.
About Eric McDavid
Eric McDavid was arrested on January 13, 2006 and charged with a single count of "conspiracy to damage and destroy property by fire and explosive." No action ever took place. Eric was arrested after being entrapped by a government informant, known as "Anna," who was paid over $65,000 for her work with the FBI. Eric stood strong in the face of great repression and refused to cooperate with the government, choosing instead to take his case to trial (even after both of his former co-defendants took a plea bargain and agreed to testify against him in court). After a trial riddled with errors, a jury convicted Eric in September 2007. Many
of these same jurors later went on record making damning statements about the FBI. Two of them later submitted declarations to the court stating that they believed Eric deserves, at the very least, a new trial. Despite this, in May 2008, the judge in Eric's case sentenced him to an outrageous 19 years and 7 months in prison. Eric is now serving an almost 20 year sentence for what amounts to "thought crime." For more info on Eric and his case, please visit http://www.supporteric.org.
This tour is part of a collaboration for the International Day of Solidarity for Long-term Anarchist Prisoners on June 11.