By Ho Meng-kuei and Hanna Liu, Focus Taiwan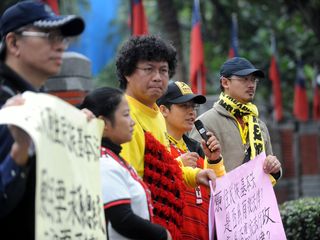 Aboriginal groups gathered in Taipei Wednesday to call for President Ma Ying-jeou to talk about indigenous policies with Taiwan's aboriginal communities in an effort to improve their human rights.
Omi Wilang, secretary-general of the Indigenous Peoples Action Coalition of Taiwan, which led the protest, urged the government to follow the Aboriginal Basic Act that was passed in 2005 to protect the rights of the island's indigenous peoples.
Moreover, Shih Cheng-feng, director of the National Dong Hwa University's College of Indigenous Studies, said at the protest that the government has infringed on aboriginal rights over the years by selling aboriginal lands and natural resources.
Wednesday's protest was partly in response to a remark made by President Ma during the second televised presidential televised debate on Dec. 17.
During the debate, Ma, who is seeking a second term as the Kuomintang candidate, said that the Aboriginal Basic Act cannot be fully implemented.
Omi criticized President Ma's remark, despite his presidential campaign headquarters said Dec. 19 that it had been a slip of the tongue.
Background
The indigenous tribes of Taiwan are closely linked with ecological awareness and conservation issues on the island, as many of the environmental issues are spearheaded by aborigines. Political activism and sizable public protests regarding the logging of the Chilan Formosan Cypress, as well as efforts by an Atayal member of the Legislative Yuan, "focused debate on natural resource management and specifically on the involvement of aboriginal people therein". Another high-profile case is the nuclear waste storage facility on Orchid Island, a small tropical island 60 km (30 nautical miles) off the southeast coast of Taiwan. The inhabitants are the 4,000 members of the Tao (or Yami) tribe. In the 1970s the island was designated as a possible site to store low and medium grade nuclear waste. The island was selected on the grounds that it would be cheaper to build the necessary infrastructure for storage and it was thought that the population would not cause trouble. Large-scale construction began in 1978 on a site 100 m (330 ft) from the Immorod fishing fields. The Tao tribe alleges that government sources at the time described the site as a "factory" or a "fish cannery", intended to bring "jobs [to the] home of the Tao/Yami, one of the least economically integrated areas in Taiwan". When the facility was completed in 1982, however, it was in fact a storage facility for "97,000 barrels of low-radiation nuclear waste from Taiwan's three nuclear power plants". The Tao have since stood at the forefront of the anti-nuclear movement and launched several exorcisms and protests to remove the waste they claim has resulted in deaths and sickness. The lease on the land has expired, and an alternative site has yet to be selected.