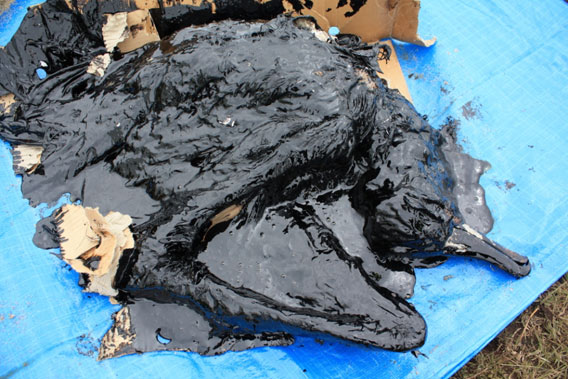 According to the New Zealand government an oil spill from a grounded container ship in the Bay of Plenty has killed 1,250 seabirds with hundreds of others in rescue centers. However, conservationists say the avian death-toll is far higher with most contaminated birds simply vanishing in the sea.
"The number of birds being found washed up on the beaches will be a very small proportion of the birds being affected," explained Karen Baird, Seabird Conservation Advocate with NGO Forest & Bird. "A lot of oil-covered birds will simply sink at sea and some of the more lightly oiled birds will be flying back to their colonies."
After grounding itself on a reef, the container ship, MV Rena, released 350 tons into New Zealand's Bay of Plenty, polluting some of the nation's favorite beaches and decimating wildlife in the area.
Baird has warned that the oil disaster could injure and kill seabird chicks as well as adults. Since it is breeding season, adult birds may be unwittingly bringing oil back to their nests. Many chicks are also expected to starve when their parents don't return.
New Zealand's Environment Minister, Nick Smith, has already called the spill the nation's 'worst environmental disaster'. But it may not be over: the ship still contains 1,400 tons of oil that could spill if the vessel breaks up on the reef. Currently, efforts are underway for a salvage crew to pump the leftover oil out of the ship before this happens.