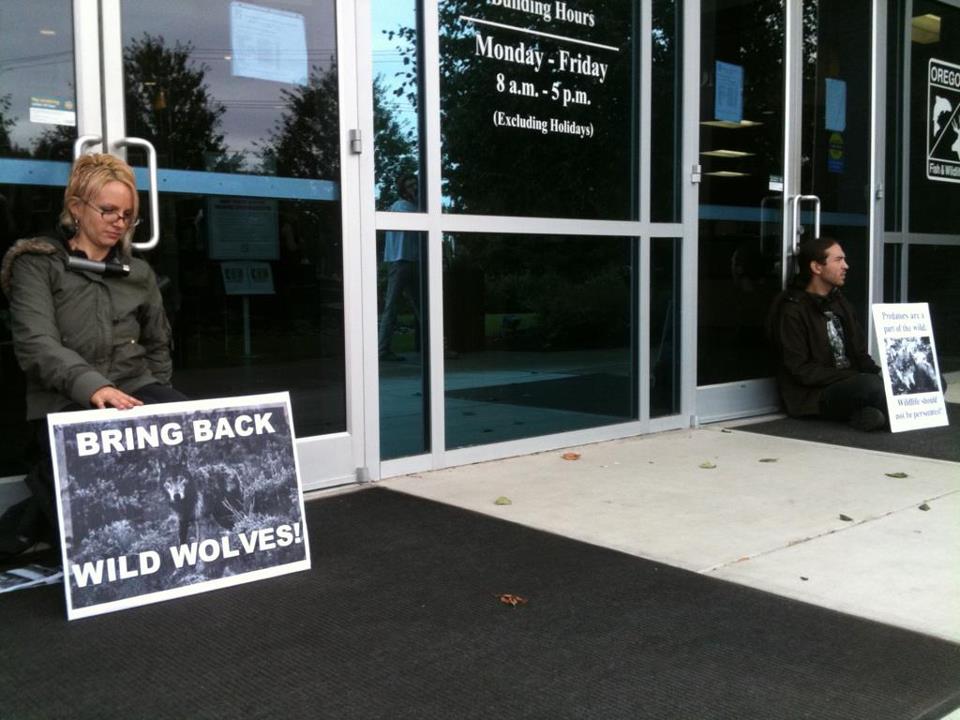 The Oregon Department of Fish and Wildlife is planning on killing two more wolves from the Imnaha pack because of supposed livestock predation. This would reduce the pack size down to only two wolves! It would leave only the alpha female and a pup born in spring. This is could effectively destroy the pack altogether.
In response to this issue, Portland Animal Defense League held a rally yesterday at the ODFW office in Salem. Two activists locked down to the front doors with ULocks around their necks.
The ODFW is responding to pressure from the state's ranching and livestock industries, not sound science or ecological knowledge. Under the Wolf Conservation and Management Plan, ODFW kills wolves after chronic livestock depredation. It has clearly become policy to slaughter wolves in this state. The ODFW needs to be held accountable! The Department of Fish and Wildlife is facade of an organization. It has become nothing more than a puppet for the livestock and ranching industries. We need to hold these corrupt agencies accountable. We need to demand justice for the wolves!!
Our dear activists, Stephanie Taylor & Justin Kay, spent last
night in Marion County Jail and will have court tomorrow at 3pm. Please
continue to follow their case and politely request they receive vegan
meals.
Marion County Jail
100 High St. NE
Salem, OR 97301
(503) 581-1183
Also please consider Donating to Portland Animal Defense League for our
continued campaign in Defense of Oregon's Wolves.
Donate:
https://www.paypal.com/cgi-bin/webscr?cmd=_s-xclick&hosted_button_id=3R3GLE8LQ7336