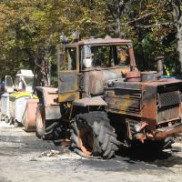 reported by activists in Ukraine (photo from 057.ua):
"In the night of August 28th, 3 wheeled loaders were torched in Gorky Park (Kharkov, Ukraine).
According to the chief engineer of Gorky Park, Oleg Grinenko, the loaders had just started their work in the park. The equipment belonged to a subcontractor whose task was to provide for new road infrastructure. One of the destroyed loader's market price was estimated as $60,000.
Since the beginning of construction on May 2011 , the construction site has seen numerous ecotage actions, expropriations of construction equipment and mass protests."