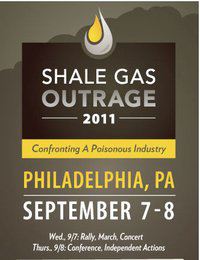 A Call to Action, September 7th and 8th, 2011—The Marcellus Shale Coalition, a powerful gas industry lobbying group, is staging a major conference in Philadelphia on Sept. 7th and 8th. CEOs from Chesapeake Energy, Range Resources, and CONSOL are confirmed participants, along with other irresponsible gas drilling giants. Dubbed "Shale Gas Insight," this is not only a key trade show for the industry, but also an expression of its political muscle. Former Pennsylvania Governor and US Homeland Security Secretary Tom Ridge, now a paid gas industry "advisor," will deliver the keynote. Other pro-fracking politicians are expected to appear.
Marcellus Earth First! Network
The Marcellus Earth First! Network is asking affinity groups, aboveground groups, and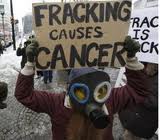 individuals who wish to see an end to fracking, no compromise, to come to Philadelphia and use direct action and a diversity of tactics to end to hydraulic fracturing. 
The conference will be taking place on the 7th at the Pennsylvania Convention Center on Arch Street. Their phone number is (215) 391-1630
On September 8th, the group Protecting Our Waters will be hosting a people's conference to propel the anti-fracking movement forward and a "No Drilling, No Compromise!" voice is needed. The people's conference will feature:
 • Affected families, movement leaders, experts, and entertainers
• An interfaith ceremony blessing all endangered rivers and watersheds
• A free concert on the banks of the Delaware River
For those in need of housing for the action Protecting Our Waters is working with allies and interfaith networks to secure free solidarity housing for those travelling to Philadelphia for this Landmark event. To contact them about the mobilization please call or e-mail Protecting Our Waters:  info [at] shalegasoutrage.org  or  (215) 391-1630