By Brenda Norrell– posted August 7, 2011 (source: NarcoNews)
FLAGSTAFF, AZ—Six people protecting San Francisco Peaks were targeted and arrested Sunday during a peaceful march for the protection of San Francisco Peaks. San Francisco Peaks defender Klee Benally, Navajo, was among those arrested.
Protect the Peaks supporters locked down on Snowbowl Road, Monday, Aug. 8, at 5 am. Peaks defender and police liaision Rudy Preston was arrested at the scene on Monday morning.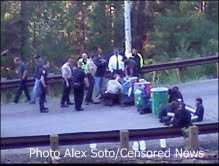 Alex Soto, O'odham, reporting from the lockdown, said that Flagstaff and Coconino County officers were cutting away the pipes to the barrels which the eight protesters were locked down with. Construction was halted on the pipeline which would carry sewage water for snowmaking for tourists at the Snowbowl Ski Resort, on sacred San Francisco Peaks.
In front of Macy's Coffeehouse on Sunday afternoon, undercover police infiltrated the hundred person march in an attempt to squash the growing anti-Snowbowl movement.
The peaceful march by Native Americans and supporters was surrounded by police from the moment the march formed, marchers said. An eye witness said, "They were just waiting to pounce. And they did!"
Native Americans are struggling to defend sacred San Francisco Peaks from snow to be made from sewage water at the Snowbowl tourist resort on the Peaks. The mountains are sacred to 13 Native American Nations. Medicine men gather plants on the Peaks and hold traditional healing ceremonies on the Peaks.
Already, the sewage water pipeline has resulted in clearcutting of grandmother trees.
Native Americans are urging tourists to boycott the Snowbowl Ski Resort, and join the support for American Indians upholding their traditions and sacred lifeways.
Further, supporters of the Protect the Peaks movement are urging an investigation of the Flagstaff police for the arrests of Native Americans and people of color. Already, the ACLU has released statistics revealing that Arizona police target American Indians during arrests.
Supporters are rallying outside the Coconino County Jail.