Action in protest of clear cutting plans
By Earth First! Journal collective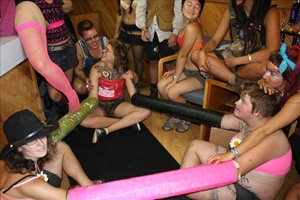 Mollala, OR—As a culmination of the annual Trans and Women's Action Camp (TWAC), activists occupied the regional Oregon Department of Forestry office. Three members of the camp locked themselves together inside the office using modified pipes, refusing to leave until the Oregon Department of Forestry revoke their support for the 2011 Elliott State Forest Management Plan.
The group occupying the office stated that yesterday was the last opportunity for citizens to comment on the plan. Activists involved in the action criticized the plan for opening up areas to logging which were previously off limits. They also criticized the plan for increasing clear cutting to boost local timber jobs while not making any decisive moves to regulate or even monitor the large timber export industry which ships logs and jobs overseas.
The TWAC was formed out of a need to make space for marginalized identities that otherwise may not be represented within the broader push for environmental justice. This action is organized and carried out by women and transgendered people.
According to OregonLive.com: The three people, whose identities have not been released, will be charged with criminal trespassing and disorderly conduct and will be booked in Clackamas County Jail.
In addition to Molalla police, the Clackamas County Sheriff's Office deployed seven members of its Community Emergency Response Team to assist in dealing with crowd control.
The group was in protest of the state forestry department plans to clear-cut a total of 87 acres, mostly mature Douglas Fir, as part of the Elkhorn Ranch timber sale. The protesters have objected to the proposed logging in the forest because it could threaten wildlife in the area.

Last week, three people from the group were arrested at the timber sale site after perching on aerial platforms installed high in two trees. Two dozen people also blockaded roads and climbed trees in objection to the sale and deforestation.
Police spokesman Det. Scott Douglas said Oregon 211 had to be closed because members of the group were initially interfering with traffic. The roadway was re-opened at about 3:30 p.m.  Many of the protesters were inside the office from around 10:45 a.m., and began disrupting workers in the building with their chanting. The continued presence of the protesters lead to officials deciding to close the office early for the day.
"It's a shame, really," said Douglas. "This office mostly deals with fire suppression and has nothing to do with what's going on in the Coos Bay area forest."
Meredith Cocks, an organizer of the TWAC from Portland, OR, had a different opinion: "It's absolutely devastating to walk into the middle of a clearcut in the Elliott and know that after decades of fighting for forest protection this sort of logging is still accepted on public lands. This is some of our last intact coastal rainforest, a precious place that deserves our respect, not to be decimated by the ODF."