By Katy Yan and Grace Mang
Cross-posted from here
Kachins protest at the Chinese consulate in San Francisco
Last Friday, hundreds of people in the US, Denmark, United Kingdom, Malaysia, and elsewhere gathered to protest the recent deadly clashes between Burmese authorities and ethnic militias in Burma's northern Kachin State. Standing before Burmese and Chinese embassies, Kachins held up signs calling for an end to the violence and a halt to dam building by Chinese companies  in Kachin State.
Fighting broke out in early June between the Burma Army and the Kachin Independence Organization (KIO) at the Dapein No. 1 and 2 dams, which are being constructed by China's state-owned Datang Company, breaking a 17-year ceasefire. Scores of people have died and as many as 13,000 refugees have fled their homes, with many crossing into China. As of last Wednesday, about 18 women have been reported gang-raped by Burma Army soldiers in Kachin State, according to the Kachin Women's Association Thailand.
Fishing on the Irrawaddy near the Myitsone Dam (Burma Rivers Network)
Chinese power companies and contractors are building a series of dams in northern Burma to supply electricity to China. The biggest and most controversial of these dams is the Myitsone Dam, a massive 3,600MW hydropower plant being built by China Power Investment and situated in an area of great cultural and ecological significance. The environmental impact assessment on this first dam on the Irrawaddy also expressed grave concerns.
In March, the KIO sent an open letter to the Chinese government calling for a halt to the project. It warned that, given the forced displacement, lack of transparency, and unequal distribution of benefits, this and other dam projects in Burma were likely to foster popular resentment, creating a risky situation for Chinese companies so close to its borders.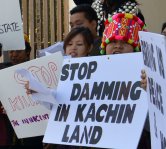 Chinese dams fueling conflicts in Kachin State (Kachins in California)
According to the Burma Rivers Network, the current conflict is "closely related to the dams. The government has sent in troops because it wants to gain control of a region that hosts major Chinese investments in hydropower." Kachin State has till now been largely controlled by Kachin forces. 
Strong local resistance has also occurred in northern Shan State in an area where Burma, the Electricity Generating Authority of Thailand, and a number of Chinese companies (China's Sinohydro, China Three Gorges Group Corporation, and China Southern Power Grid) are planning a series of dams for the Salween River.
China now finds itself caught in the middle due to its desire for secure energy supplies from Burma and its fear of escalating conflict around its hydropower projects so close to its borders.