[youtube=http://www.youtube.com/watch?v=wZOryAQTIeA&w=640&h=390]
From: http://www.indigenousaction.org posted June 28, 2011
FLAGSTAFF, AZ — Owners of Arizona Snowbowl ski area have started clear-cutting rare alpine forest for new ski runs on the Holy San Francisco Peaks. According to an Environmental Impact Statement more than 74 acres are slated to be cut. Owners and operators of Arizona Snowbowl began partial development of a 14.8 mile pipeline last month.
If completed, the pipeline will transport up to 180 million gallons of treated sewage effluent from the City of Flagstaff to the ski area for snowmaking.
The treated sewage has been proven to contain contaminants such as pharmaceuticals and hormones. Currently this matter is subject of a lawsuit asserting that the Forest Service, who manages the Peaks as public lands, did not test or seriously consider impacts if humans ingest the fake snow. Snowbowl started development in May even though the Ninth Circuit Court of Appeals has yet to make a decision on the current case.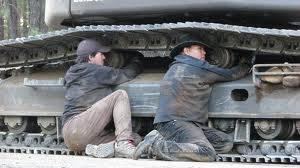 Development of the pipeline was temporarily halted on June 16th when six individuals locked themselves inside the pipeline trench and to construction equipment. After holding off construction for nearly 5 hours, the direct action ended with the arrests of those involved.
The San Francisco Peaks are held holy by more than 13 Indigenous Nations. Former Navajo Nation President Joe Shirley Jr. made the point clear when the Forest Service initially approved the development in 2004, "When you build on [The Peaks], when you talk about putting wastewater on it, you are desecrating our life. You are chipping away at our way of life and committing genocide"
Click here to read the statement from the six protesters who literally placed themselves in the trenches

For background information also see: Saving the Peaks zine 2010    &    Saving the Peaks zine 2011