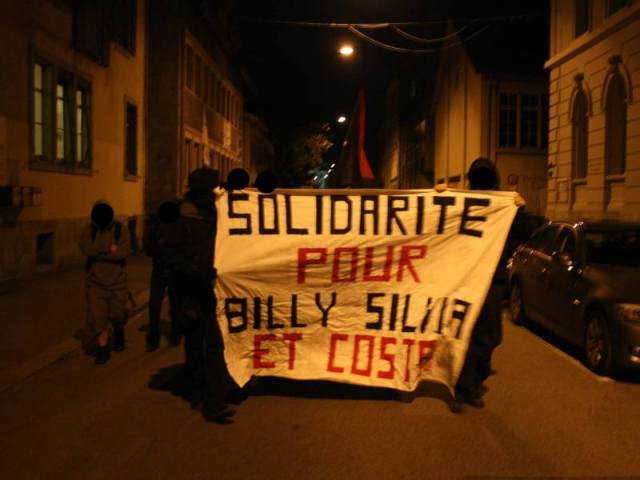 The judgment against Silvia, Costa and Billy is fixed for the days between 18 and 22 of July, 2011. The presiding judge of the court restricted their correspondence even more, reducing the amount of letters per week which they can receive to 2, and restricting to 2 letters per week that they can send (before it was 3 and 3 per week).
The proximity of the beginning of the judgment and the limitation of the correspondence are another step towards the objective of the office of the public prosecutor and that they never obtained in more than a year of trying to make communication difficult to and preventing the collaboration between the interior and outside, attempting to stop participation in the struggle.
In view of the hearings, the imperative of the inquisitors is to prevent the organization of events and the communication between the co-accused, so that the process is carried out in a pacific and democratic way. We want to reiterate that it is important that we do what we can to feel and express our solidarity with Silvia, Costa and Billy, because this judgment is not as if nothing has happened, because we remember strongly that when they strike one of us, they strike all of us.
Message from www.SilviaBillyCostaLiberi.tk
"Costantino, Silvia and Billy were arrested in Switzerland under the accusation of transporting and attempted use of explosive material. We want to confirm our unconditional solidarity with them. Because their ideals and their struggles are those of every revolutionary. Because they have always fought with passion, perseverance and will against the State and Capitalism, which have always produced war, death, environmental devastation, exploitation and made a profit for its dominion. The management and research of bio and nanotechnology are some of the tools in the hands of the Powerful used to maintain this state of things.
There are three types of people in this world; those who quietly observe what happens from afar, those who observe what happens from afar and have something to say about it and then there are those who make things happen. The latter, who have included the need to physically partake in these happenings in order to liberate themselves from the chains of this society are imperative to the struggle and we are on their side.
Solidarity is our weapon.
Solidarity to Costa, Silvia and Billy.
Solidarity to Marco Camenisch.
Solidarity to all revolutionary prisoners."