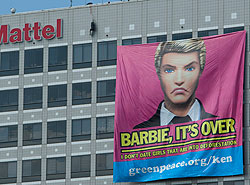 Greenpeace activists dressed as Ken dolls rappelled down the side of Mattel Inc headquarters Tuesday to unfurl a banner saying Barbie packaging contributes to rainforest destruction.
The massive pink-and-blue sign on the Mattel building in El Segundo, outside Los Angeles, featured a frowning Ken declaring: "Barbie, it's over. I don't date girls that are into deforestation."
Mattel is the world's biggest toy company by revenue.
Greenpeace said the demonstration also included a protester dressed as Barbie driving a glossy pink bulldozer in circles and carrying copies of the group's accusations against Mattel to its 1,500 Los Angeles area employees.
Six of the protesters were arrested at the scene, El Segundo police spokesman Sergeant Mike Gill said.
Two others would be taken into custody when they came down from the side of the building, he said, and all eight would be booked on conspiracy and trespassing charges.
"Unwrap the glossy pink box and you'll find Barbie's dirty secret. Her packaging is made from the rainforests of Indonesia which are being ripped down for quick profits," Greenpeace activist Rolf Skar said in an emailed statement.
"The Sumatran tiger is on the brink of extinction because companies like Mattel are looking the other way and buying paper without asking where it's coming from," Skar said.
Mattel said in a written statement released to Reuters that the company had been in communication with Greenpeace on a variety of paper sourcing issues.
"We are surprised and disappointed that they have taken this inflammatory approach, considering the open channels of communications we've established," Mattel spokesman Jules Andres said.
Greenpeace said its Los Angeles activities marked the start of a worldwide campaign to stop toy companies driving deforestation in Indonesia, which according to the group has one of the fastest rates of forest destruction in the world.