KTLA News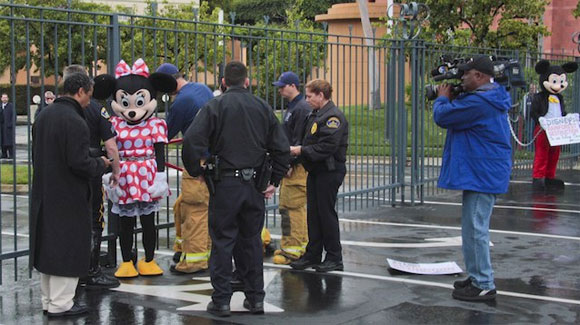 Four environmental activists dressed as Mickey and Minnie Mouse arrested outside Walt Disney Studios Wednesday have been released after posting $1,000 bail.
Jennifer Binstock, 29, of San Francisco; Christopher Toomey, 52, of Redondo Beach; Blake Hodges, 26, of Irvine; and Alexia Dickason, 27, of Los Angeles, were arrested during a protest against Disney's alleged use of paper from endangered Indonesian rain forests in its children's books.
They are charged with suspicion of trespassing, police said.
Two of the activists chained themselves to the studio gates while two others climbed to display a large banner beneath the Walt Disney Co. sign.
"Today's protest is a loud and colorful message to the executives at Disney that it's totally unacceptable for them to continue to drag their feet when Indonesian rain forests are falling at one of the highest rates in the world," said Laurel Sutherlin, a spokesman for Rainforest Action Network.
In a statement, Disney spokeswoman Michelle Bergman said Disney has adopted a policy that by September all paper used in books and magazines by the company's North American publishers will contain recycled content, be sourced from certified forests or be of known origin.
The Rainforest Action Network says it is aware of Disney's new policy, but says it doesn't go far enough to ensure paper from Indonesian rain forests will not end up in the company's books.