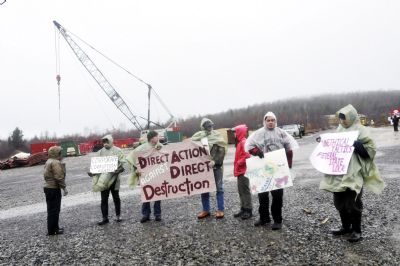 Bangor, Maine—Today, all trespassing charges were dropped against Maine Earth First! activists Jessica Dowling, John Waters, Leonard Murphy, Donald Smith and James Freeman. The five were arrested in November after they blocked construction vehicles at the Rollins industrial wind energy project.
Charges were dropped in the midst of jury selection, as activists were preparing for a public trial to expose the corruption and destruction that accompanies industrialism (wind, or otherwise).
Demonstrators formed a blockade of construction vehicles on November 9, 2010, at the 40-turbine, $130 million Rollins Mountain wind-power project being built by First Wind in Lincoln. According to arrestee Jimmie Freeman, the case has emboldened the resistance to this project, "Corruption continues in Lincoln. We won't rest until its stopped."
Who wants to join them for the next show-down?
According to the Portland Press Herald, on November 9, 2010, "About three dozen protesters gathered at the entrance to the project site shortly before 8 a.m. as part of a rally planned by groups that oppose the project on Rollins Mountain and other large-scale wind energy proposals around Maine."
"Most of those arrested are affiliated with the Maine branch of the national activist group Earth First! Wearing orange ponchos against driving rain and biting wind, they stood across a gravel access road and forced truck drivers to stop for nearly a half-hour."