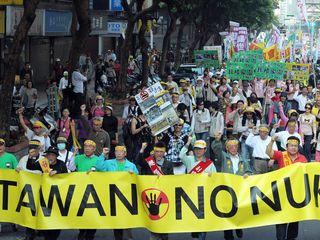 Taipei, March 20 (CNA) Environmental activists and opposition political figures staged a protest in Taipei Sunday against the government's plan to continue the Fourth Nuclear Power Plant project, as Japan battled to bring its quake-damaged nuclear plants under control.
Dozens of environmental groups also called on the government to suspend plans to extend the life of Taiwan's first, second, and third nuclear plants, and urged that safety checks be conducted at all the plants.
The protesters urged the government to reinforce the nuclear plants' resistance to earthquakes. The power plants are designed to withstand earthquakes of up to magnitude 7.0 on the Richter scale.
Furthermore, the government should immediately halt construction of the fourth nuclear plant, as it is located in a quake and tsunami-prone area, the protesters said.
Former Premier Su Tseng-chang, who declared his intention Sunday to seek the opposition Democratic Progressive Party's presidential nomination, was among the demonstrators. He called for an end to the extended life of the three plants in operation.
Another former premier, Frank Hsieh, also of the DPP, said at the protest that when an advanced country like Japan could face such a serious nuclear crisis, it was only a matter of time before Taiwan would have to cope with a similar kind of danger.
A spokesperson for DPP Chairwoman Tsai Ing-wen said that Tsai was not at the protest because she had other commitments in southern Taiwan but shared the views of her party colleagues.
Tsai was of the view that the allocations for the development of alternative energy should be increased, and she would be presenting her energy policy soon, the spokesperson said.
Meanwhile, former Vice President Annette Lu said Taiwan residents should push for an immediate halt to the construction on the fourth nuclear power plant, and she joined the call for an overall safety check on all nuclear power plants in Taiwan.
DPP legislator Pan Meng-An told reporters that if the government refused to suspend work on the fourth nuclear power plant for safety checks, the DPP would refuse to review the budget of the state-run Taiwan Power Co. (Taipower), builder and owner of the plant, when it came up in the legislature on March 24.
Taiwan currently operates three nuclear power plants, with No.1 and 2 located in northern Taiwan's New Taipei City, the largest city in Taiwan in terms of population, and No.3 in Pingtung County, southern Taiwan.
A fourth nuclear power plant is under construction in Kungliao on the northeast coast, also in New Taipei City. It is scheduled to begin commercial operations at the end of next the year. (By Sophia Yeh, Justin Su, Lin Szu-yu, Angela Tsai, Kuan Jui-pin and Ann Chen)