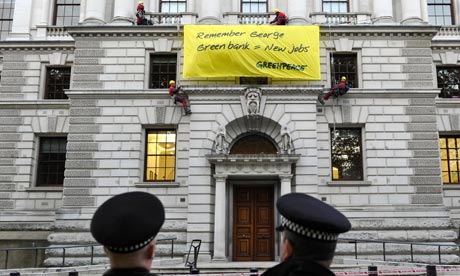 Four Greenpeace activists scaled the UK's Treasury building and dropped a banner demanding that the chancellor provide a green investment bank. They say such a move could provide tens of thousands of new jobs. The banner read: "Remember George, green bank = new jobs."
This move is weird on many levels, because Greenpeace is skirting the most Greenwashing of industries—investment banking. Furthermore, "green capitalism" ignores many urgent needs of the Global South, namely the counter-proposals to Western Industrialism conceived during the World People's Conference on Climate Change and the Rights of Indigenous Peoples in Cochabamba, Bolivia this year, which sited Capitalism as the number 1 structural cause of Climate Change.
The proposal for Green Banks is similar to Greenpeace's failure to support First Nations groups in Canada by selling out the Boreal Forest earlier this year.