Last week, police and loggers commenced operations in Humboldt that will clear acres of redwoods if carried out.
Early Wednesday morning, forest defenders set up a 60ft high blockade to prevent loggers from accessing the Jacoby Creek watershed. With activists suspended 60 feet in the air on a platform connected by ropes to the trees in their midst, loggers and police severed the life line, seriously endangering the life of Fly, one of the suspended protesters. Police also arrested the support activist (allegedly for an outstanding traffic warrant). Hanging by a proverbial thread, Fly insisted, "This is about global eco-cide. We are doing this to preserve life on this planet, to fight climate change, loss of species and threats to our ability to survive."
After two full days, Fly descended. In a dispatch sent on Friday, he explained, "Last night I was forced to evacuate the Skypod. Under a blanket of darkness, I evaded the security guard and walked away to safety. Because of the way Green Diamond and the Sherrifs had cut and retied my life-line, I was unable to see my anchor and my platform kept slipping farther toward the ground. By the time I rappelled down, I was hanging about 35 feet below where I had started Wednesday morning. I could not see how much of the rope was left to slip through the knot until I eventually would drop. I was in fear for my safety. If this company and the sheriffs put someone's life on a knot, they should know a little more about what they're doing." The loggers were eventually able to pass through the blockade, but forest defenders are maintaining an active presence in the trees in spite of Green Diamond's 24 hour security watch.
The company has 430,000 acres in the north coast region of California and much more in Oregon and Washington where they also clear-cut and spray herbicides on the forest from helicopters, sometimes poisoning local residents. According to their own documents, they plan to log around 500 acres more in Jacoby Creek in the next 10 years
For over 18 months, dedicated Earth First!ers have prevented the scourge of clearcutting by occupying the trees of the "MacKay Tract," tying together 40 nodes to create a network of platforms and rigging that has been dubbed the "eco-topia" tree village. Although the tree village is not currently in danger, as cutting continues, it comes increasingly close to Green Diamond rapacious grasp.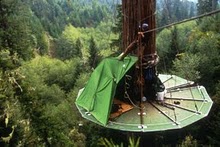 Contact EF! Humboldt for more
email: contactefhum[at]gmail.com
phone: 707.845.8268