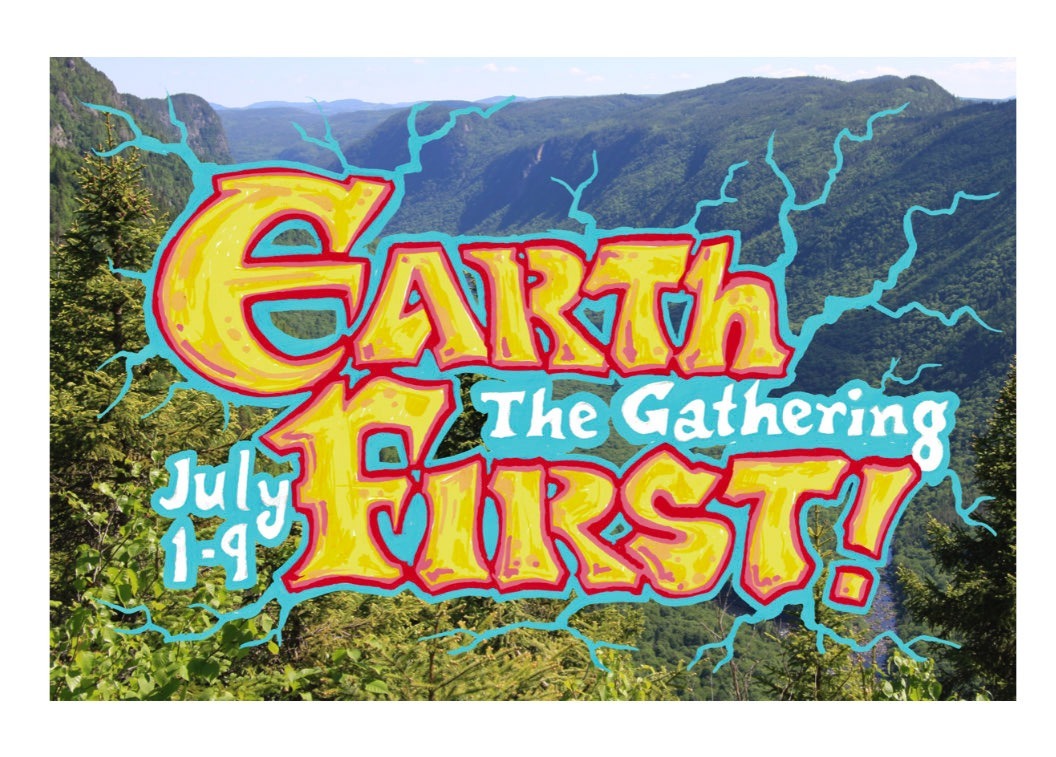 Location
The 2023 Earth First! Summer Gathering (July 1-9, 2023) will take place at a site that the Forest Service refers to as Rob Ford Meadows. This location is near the town of Granville, VT. From Granville (on VT Route 100), take W Hill Rd for about 1.5 miles. There is a brown National Forest road sign. As you drive on W Hill Rd, KEEP LEFT AT THE FORK, ON FOREST ROAD 55 (do not veer right on West Hill Ext). You will be driving along the White River, which will be on your left.
The gathering will take place in the meadows and forests along Rob Ford Rd (on your right). It's a dirt forest road. Once you've come to Rob Ford Rd, you've arrived!
Or, navigate to these coordinates: 43.995156, -72.871397
Parking and What to Expect When You Arrive
We'll be parking along W Hill Rd and Patterson Brook Rd. Please pull off the road far enough that a large vehicle can easily fit by you, and only park in areas where you are able to fully do so (in other words, don't block the road). Please park your vehicle facing out/back the way you came in.
The roads leading to the site have recently been pretty rutted out, so a high-clearance vehicle will be easiest, but folks should be able to make it in a sedan with careful driving.
When you arrive, please head to the welcome tent, which will be located at the intersection of W Hill Rd and Rob Ford Rd (near the big Earth First! sign and circle A banner). If you're able to visit the welcome tent and get generally oriented without your vehicle, please do so — park first, then head over. However, if you have a reason that you need to drive up to the welcome tent upon arrival, that's OK. In general, we'd like to keep Rob Ford Rd (the road through the gathering site) as clear as possible for people working on camp infrastructure and folks who are less able to make the trek without a vehicle. The distance from parking to the welcome tent could be a few hundred feet for the closest vehicles, or more than a mile for the furthest vehicles.
Here are some other notes about the site:
The main path through camp is a dirt road (Rob Ford Rd), which high clearance vehicles can drive part of the way up as needed (to schlep people or stuff). We cannot park in the meadows, so if you use the road to schlep stuff in your vehicle, please plan to then park it back on W Hill Rd or Patterson Brook Rd with the rest of the cars.
From that main road through the site, we'll be using the grassy meadows (check for ticks!) on either side of the road. Some additional camping will take place in the surrounding forests, as well.
It's hilly! The gathering road (Rob Ford Rd) starts at the bottom of a hill, and climbs up the entire way through the site. You can generally expect to probably be walking up the hill toward your campsite and back down the hill toward workshops, food, etc.
There's a river a short walk from the site for dipping and wading and maybe deep enough in parts for swimming!
What to Expect from the Surrounding Communities
The gathering is being held in an area where the local people have had some experience with large groups of weirdos. Our specific site has seen multiple Rainbow Gatherings. Generally speaking, people tend to be decent and welcoming to strangers (and assuming that's the case, we ask attendees to be decent in return). We also plan to have a good number of local folks attend the gathering. That said, it's a predominantly white, rural community where you are likely to come across "Blue Lives Matter," Trump, and Confederate flags. Belligerent racism and other forms of oppression may be somewhat hidden but are most definitely here. We are not currently aware of any specific local groups or individuals that are planning to threaten our gathering or participants, but we'll continue to keep an ear out — and we'll have security.
If you are a person of color, queer, trans, or otherwise feel vulnerable entering this area, please reach out ahead of time, and we will be happy to help with rides, further discussion about what to expect, and anything else you might need to feel more comfortable attending the gathering. Additionally, feel encouraged to get in touch if you have questions around things to consider with your immigration status and being so close to the border.