sent to Earth First! Newswire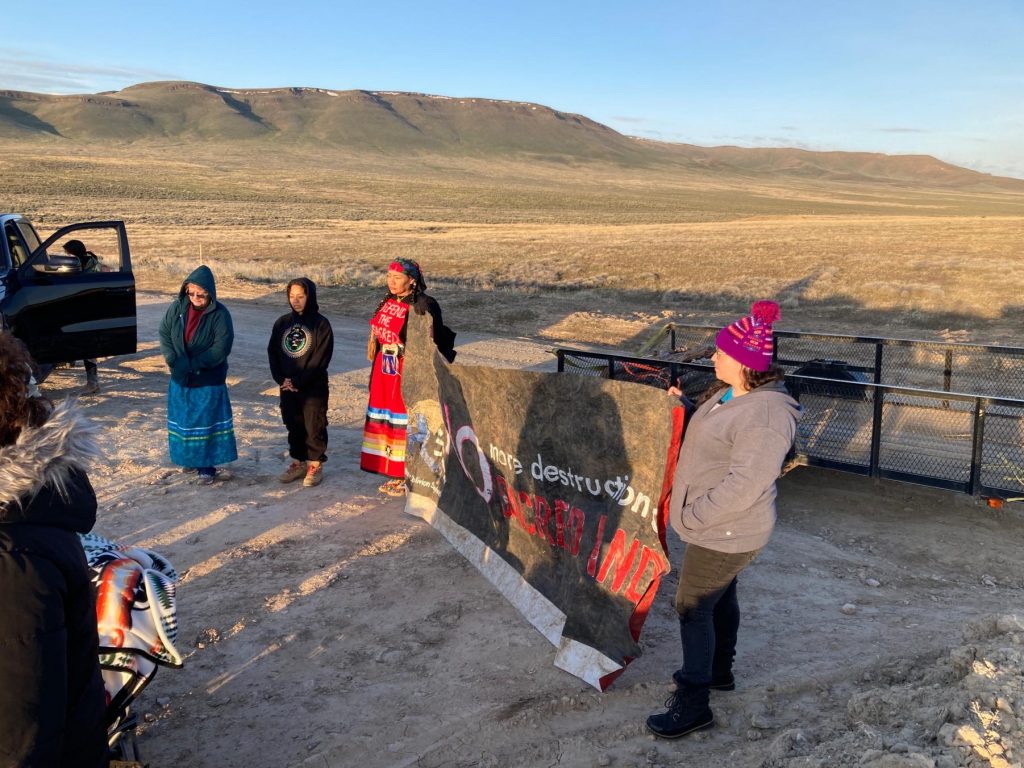 A group of Native American protesters seeking to protect land that is sacred to them have begun prayers for the water, the land, and future generations at Peehee Mu'huh, also known as Thacker Pass, this morning. They are constructing a teepee to block construction and supporters have begun to gather on-site.
Follow the livestreams on our Facebook page: https://www.facebook.com/ProtectThackerPass/ 
Thacker Pass Timeline
January 15, 2021 — Due to "fast-tracked" permitting under the Trump Administration, the Bureau of Land Management releases a Record of Decision approving the Thacker Pass mine less than a year after beginning the Environmental Impact Statement process. On the same day, Max Wilbert and Will Falk established the Protect Thacker Pass camp.
February 2021 — Local rancher Edward Bartell files a lawsuit (Case No. 3:21-cv-00080-MMD-CLB) in U.S. District Court alleging the proposed mine violates the Endangered Species Act by harming Lahontan Cutthroat Trout, and would cause irreparable harm to springs, wet meadows, and water tables. Four environmental organizations (Basin and Range Watch, Great Basin Resource Watch, Wildlands Defense, and Western Watersheds Project) file another lawsuit (Case No. 3:21-cv-00103-MMD-CLB) in U.S. District Court, alleging that BLM violated the National Environmental Policy Act, Federal Land Policy Management Act, and other laws in permitting the Thacker Pass mine.
June 24, 2021 — The National Congress of American Indians (NCAI), the oldest and largest national organization of American Indian and Alaska Native tribal governments, calls on the Department of the Interior to rescind the permits for the Thacker Pass project.
Spring and Summer 2021 — Rallies, protests, and prayer runs take place in Orovada, Winnemucca, Reno, Carson City, and at Thacker Pass. More than 100 mine opponents gather at Thacker Pass to commemorate the 156-year anniversary of a September 12, 1865 massacre of at least 31 Northern Paiute men, women, and children committed by the 1st Nevada Cavalry. Thousands of people visit the site.
July 19, 2021 — The Reno-Sparks Indian Colony and Atsa koodakuh wyh Nuwu (People of Red Mountain) file a successful motion to intervene in Federal District Court (Case No. 3:21-cv-00080-MMD-CLB) alleging that the Bureau of Land Management (BLM) violated the National Historic Preservation Act (NHPA) in permitting the planned lithium mine. In August, the Burns Paiute Tribe files a motion to intervene on the side of tribal plaintiffs (Case No. 3:21-cv-00080-MMD-CLB).
September 15, 2021 — Bureau of Land Management accuses Will Falk and Max Wilbert of trespass for providing bathrooms to native elders at Thacker Pass, fining them $49,890.13. A few weeks later, eighteen native elders from three regional tribes request a BLM permit for their ceremonial camp. The BLM does not respond.
November 29, 2021 — The Reno-Sparks Indian Colony files an amended complaint in federal court alleging major previously unknown violations of the law. In January, Judge Miranda Du rejects the amended complaint because she wants to make a final decision on the case within a few months (note that the case has now continued for another calendar year).
February 11th, 2022 — Winnemucca Indian Colony files a motion to intervene in the lawsuit on the side of plaintiffs, claiming that BLM's contention that they consulted with the Tribe is completely false. Judge Du rejects this motion shortly afterwards with the same reasoning used above.
April 4th, 2022 — Reno-Sparks Indian Colony files a Motion for Discovery Sanctions alleging that the BLM has been disobeying court orders and making "reckless, false statements" in a deliberate attempt to abuse the justice system and limit judicial oversight. Judge Du agrees with RSIC, but rejects the motion on a technicality.
August 2022 — BLM "discovers" five new historic sites at Thacker Pass and for the first time acknowledges the September 12, 1865 massacre took place, but continues to reject tribal expertise.
September 2022 — Lithium Nevada Corporation begins digging up portions of Thacker Pass for "bulk sampling" despite consultation still being ongoing between the Bureau of Land Management and regional tribes over cultural sites.
October 2022 — Dozens of mining activists from four continents visit Thacker Pass as part of the Western Mining Action Network biennial conference.
February 6, 2023 — The original lawsuits against the project conclude; Judge Miranda Du rules largely against the four environmental groups, local rancher, and two Native American tribes who filed the original cases, but orders BLM and Lithium Nevada to review certain aspects of permitting.
February 16, 2023 — A new lawsuit (Case 3:23-cv-00070-MMD-CLB) is filed by three Native American Tribes against the Bureau of Land Management over the Thacker Pass lithium mine.
February 22, 2023 — Lithium Nevada Corporation posts their bond and the Bureau of Land Management issues final authorization for construction to begin under the Thacker Pass lithium mine permit.
February 23, 2023 — The Bureau of Land Management informs tribes that the agency now "agrees that the [Thacker Pass Traditional Cultural] District is eligible for the National Register of Historic Places…" but states that Lithium Nevada will begin construction of the Thacker Pass mine regardless, while BLM conducts "continuing consultation efforts with Tribes".
February 27, 2023 — Environmental groups appeal their original lawsuit (Case No. 3:21-cv-00103-MMD-CLB) to the 9th Circuit Court of Appeals. The case is scheduled to be heard in June.
March 1, 2023 — Tribes file an emergency motion for temporary restraining order and preliminary injunction in Case 3:23-cv-00070-MMD-CLB.
April 25, 2023 — Native Americans block construction for the day at Thacker Pass / Peehee Mu'huh