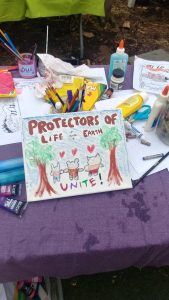 On February 12th 2023 a group of parents, educators and community members got together at a community garden in Brooklyn, to celebrate for a future without cops for children to grow up in. In solidarity with Highlander preschool and the movement in Atlanta to Stop Cop City, we gathered in an event that embodied a collective resistance to state and police oppression – a resistance through play, joy, music, dance, food sharing, and community building. 
The event was held at the community garden, a squatted lot in Brooklyn, NY which was occupied over a decade ago when neighbors came together to clean it up and convert the land into what it is today – an urban farm, a community gathering space, a playground, and a chicken sanctuary situated a block from the subway in a historically low-income POC neighborhood; a food desert with very few green spaces and the few autonomous ones are constantly threatened by for-profit companies whose ideas of "development" is to turn gardens into condos. In recent years the community garden has also hosted a separate community group who provides a twice weekly free food distro. Over the years, the farm has been collectively built, defended, and managed in a non-hierarchical, opt-in fashion by neighbors and community members based on a, "give what you can, take what you need" ethos. In the gathering, we prefigured, if for only a few hours, a horizontal and self-managed communal society: members of local mutual aid groups that had seen information for the event on social media showed up with items to give away, set up a free store, and prepared mulled apple cider to warm us up; others who run a radical mobile library came early to help set up for the event. Friends who run a food pantry and warm food giveaway for the community cooked up a delicious warm meal over a bonfire. The invited musicians brought more musicians and singers for an ad hoc mini open mic session or radical songs.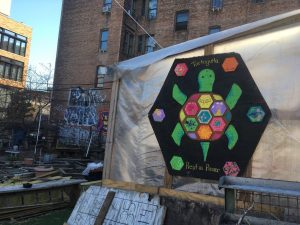 Despite the adults having set up loosely scheduled activities for them, the children enjoyed themselves playing, climbing trees, socializing, and frolicking, making arts and crafts, grabbing snacks, and playing with the farm chickens… all self-guided, trusting their desires and bodies. They also helped build a mural to commemorate a fallen forest defender named Tortuguita, originally from Maracaibo, Venezuela, who was shot at least 13 times by the Georgia State Police during a surprise raid while they were in their tent defending the Weelaunee forest. 
Tortuguita's national and indigenous origins are worth bringing into context. The fight of environmental activists in many Latin American countries, especially from indigenous and afro-descendent activists, persists against local politicians and local and multinational corporations that look to put a price tag on living beings, on natural resources, and on our very lives and livelihoods. Therefore, the Stop Cop City movement is one that unites us all and follows a long transnational and international(ist) tradition of organizing and fighting against land and water exploitation.
As mothers and as children, we want to hold space for Tortuguita's family, especially for their mother, Belkis Terán. On February 6, in an emotive intervention at a press conference to demand transparency and clarification of the events surrounding Tortuguita's death, Belkis spoke about her child's origin, their names, and their studies and environmental activism. Tortuguita put their ancestral knowledge, their life experience, academic preparation and experience as a student activist and organizer into practice for the Weelaunee forest defense. Belkis also issued a very valid complaint, that "[The] university teaches young people to do good to others, to dream for a better world, to seek alternatives to the old problems and when they try to put these teachings in practice they are killed, arrested and treated like criminals [by] those who should protect them". This highlights the neoliberal contradiction of what is expected for activists to do to fight for change and when activists put, not only their backs but literally their whole bodies into a rightful cause, they are then stigmatized and criminalized. 
Children, who have yet to be crushed by the demands of  adulthood under capitalism such as, work, production, and performance, are naturally curious learners. The right hemisphere which involves visual, auditory, and tactile processing are all fully developed in utero, while the left brain, which is responsible for verbal and sequential functioning, doesn't fully develop until age 12. As such, children are sensory learners, meaning they learn from touch and how experiences make them feel. A future without Cop City is one where children have unrestricted access to movement through the forest, an ability to be curious and explore without the grips of repression and control.
The wealthiest class will choose nature-based, self- led models of education. This can be seen from the high price tags on Waldorf and Montessori education in our cities. For children of the working class, our cities' budgets are focused on power, control, repression, and production. Art, nature, and curiosity are cut off from the table, a direct act of psychological warfare on the developmental well- being of the youngest in our society.
Double consciousness- the dialectic ability to see oneself and be able to perceive oneself from the white supremacist gaze, first coined by W. E. B. Dubois, is something Black people in the US have had to learn in order to survive the dangers of the white gaze. Free movement under policing has yielded deadly consequences as can be seen through Amadou Diallo's murder for opening his wallet, moving his arms freely, through Mike Brown from running from armed white men with guns, through Tamir's Rice's murder for holding a toy gun.  Children who grow up in heavily policed areas are conditioned from a young age to be aware of how their free movements are perceived by others which causes a disconnection between the body and sensory learning, stifling creative growth. Sure, our children are resilient, we learn joy, we are creative, we play, we find ways to express and create despite policing and capitalism. But what would growth look like without the hyper vigilance of the police state?
Ironically, the right wing will often use children's need for safety as a pretext to increase policing. These myths keep us in a locked state: afraid of police violence, yet unable to imagine a safety mechanism without them. Policing does not increase safety for children. This can be seen by the skyrocketing cases of child abuse through the pandemic, despite police budget increases, and every act of violence from police within the schools.  
At the solidarity event we danced and sang, "Cop City will never be built!" as we were led by a radical marching band on a parade around the block. The evening ended in celebration, toasting marshmallows by the fire.
Kid's Day was an example of the age-old concept of "it takes a village." While in the farm and in the streets, the performers, other parents, and other marchers, kept our kids safe. From the comrade who used their body to block police entrance into the farm, to every parent who made sure no one fell off the playground, to the scout who checked for police activity during the time of the parade, to every community member keeping running toddlers from traffic, we kept us safe. We protect every child as a community.
Kid's Day is a snapshot, an insistent moment of what is possible when we win. When our cities become ours to explore. When our movements are free. When the forests can grow. When our children can have a childhood without cops. Solidarity with Atlanta and all occupations against policing. Another world is possible.