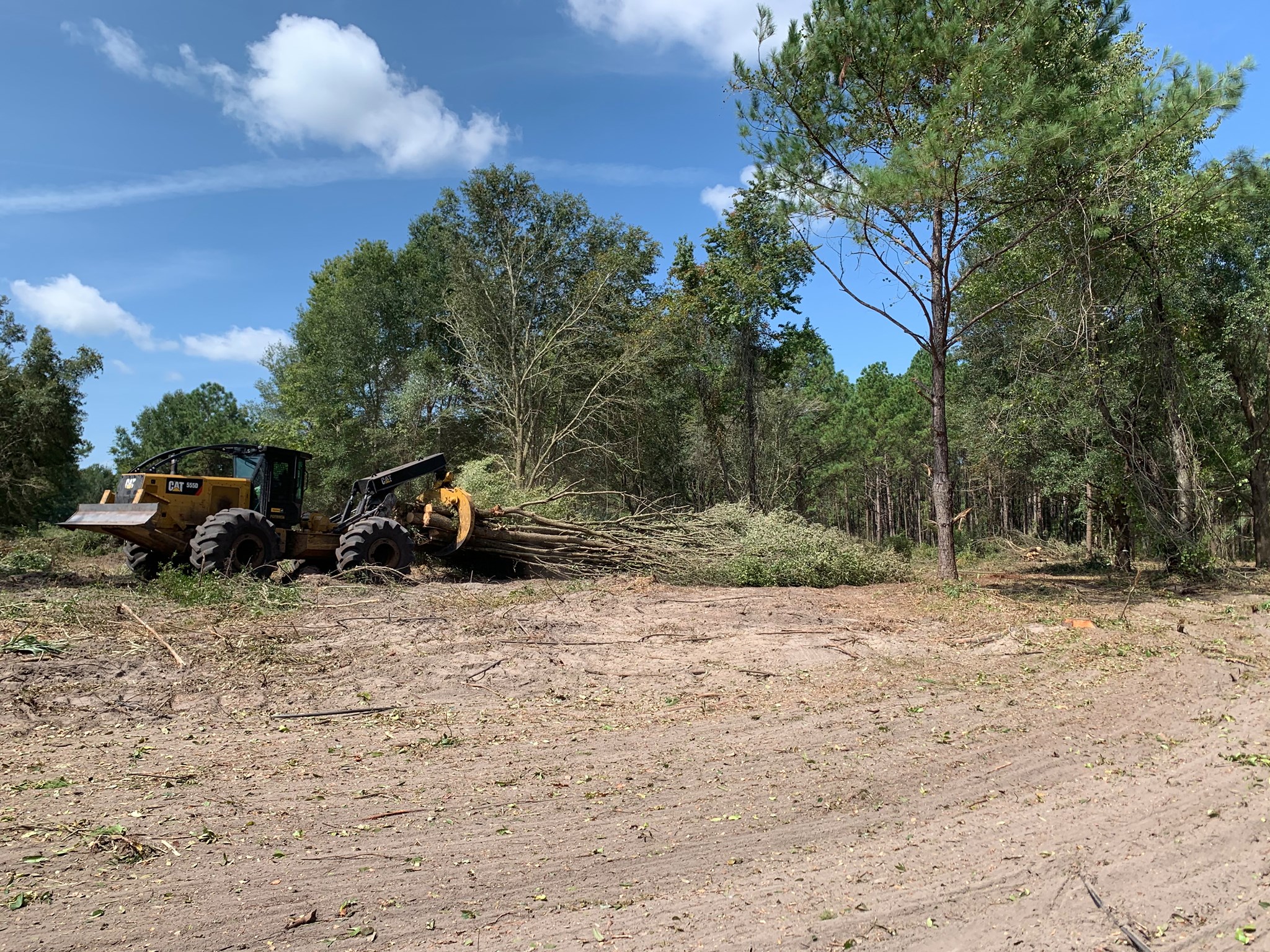 by Friends of What Used To Be the Blueberry Farm
Gainesville, FL -- On Sunday September 20, residents who live and work in the Calf Pond Creek watershed walked the 107 acres of forest on what is known locally as the Blueberry Farm flagging buffer areas around waterways, as indicated in an initial draft permit that was underway before being disregarded under a supposed agricultural exemption.
The entire property is now being cleared by Columbia Timber Company without a permit in place. This permitting process exists to ensure public protections for waterways, wildlife and due process rights regarding impacts to neighboring properties.
The group, which opted not to be identified, due to threats made by the property owner, consisted of families who have lived near the property for many years.
They went out as volunteer surveyors doing what the city, county and company should have done prior to clearing the land. They searched for remnants of protected wildlife habitat, such as Gopher Tortoise, and used flagging tape to mark the required 35-foot areas surrounding ponds, creeks and canals.
Columbia Timber's website says they "promote and believe in responsible land and timber management," and in a Facebook post on September 18, they state that "responsible land management often requires collaborating with governing bodies."
But rather than collaborating with city and county agencies, Columbia has dodged any oversight or regulations, citing Right to Farm Act legislation that provides exemptions for active farming operations.
A developer publicly associated with the property has already indicated plans for construction of housing and a possible sports center on the land, though at the moment the work being done is claiming to be for a tree farm.
This is a misuse of legislation that is intended to protect farmers in rural areas from sprawling development, not aid developers in skirting urban planning regulations, as it is doing here.
"If the agencies and companies involved refuse to recognize this, then it is up to the rest of us to do what we can to protect the waterways and wildlife. This is bigger than one company's right to make profits," said one participant in the weekend volunteer surveying effort.
The group which surveyed and flagged the land says they believe all activity should cease immediately until a permitting process is completed, where a formal plan can undergo public input and approval by elected officials.
"By honoring the existing permitting process, neighbors have a chance to weigh in on impacts to their lives, property, land use plans and long-term character of their community," they said in a statement sent to this FB page, along with the following pictures.
Columbia Timber Company is supposed to be following this permit with 35' buffer guidelines along all waterways. Call Columbia Timber Company and ask them why they are not following the rules of this permit. (352)-375-1473
They are disregarding this rule and have cleared too close to all waterways including the lake behind TB McPherson park. This is not okay! Clearing this close can have lasting affects on communities down stream. They should be using silviculture best management practices but are failing to follow these VERY clear and simple guidelines.