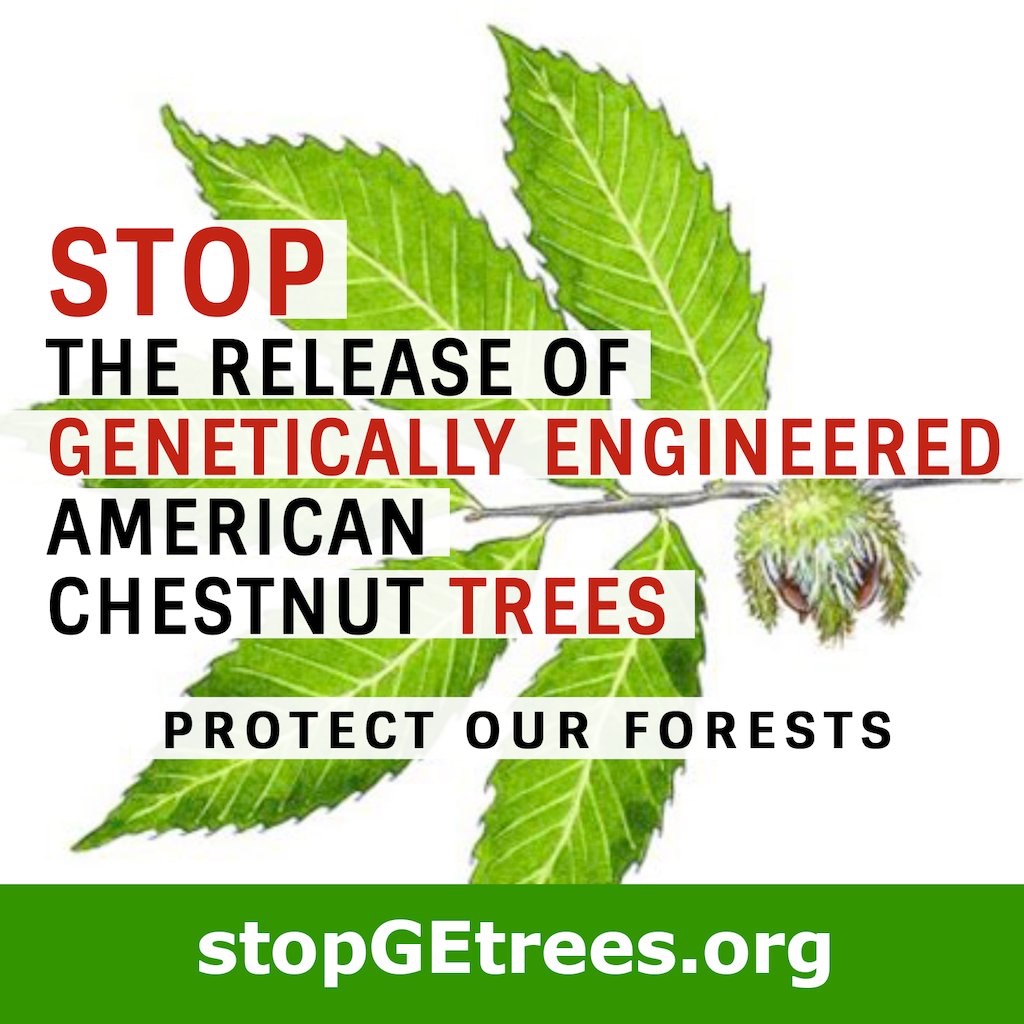 by The Campaign to Stop GE Trees
On 18 August the long-awaited public comment period regarding possible deregulation of the genetically engineered (GE) American chestnut tree opened. The US Department of Agriculture (USDA) is giving the public until October 19th to comment on a petition from the State University of New York College of Environmental Science and Forestry (ESF) requesting permission to plant GE trees throughout eastern forests without monitoring or regulation. If allowed, the transgenic (D58) GE American chestnut, modified for blight tolerance, would be the first GE forest tree approved in North America. It would also be the first genetically modified organism (GMO) released to spread freely into wild ecosystems, setting a dangerous global precedent and threatening native forests in North America.
Organizations representing tens of millions have endorsed the campaign's demand to the USDA to reject the deregulation of the D58 GE American chestnut tree. Greenpeace USA, Friends of the Earth, the Center for Food Safety, Climate Justice Alliance, Food and Water Watch, Indigenous Environmental Network, Environmental Paper Network, Dogwood Alliance, Global Forest Coalition, the Organic Consumers' Association and Rural Coalition are among the fifty-plus groups that have joined with the Campaign to STOP GE Trees to take an official stand against the proposal.

As described in a white paper produced by the Campaign to STOP GE Trees, the scheme to release these GE trees lacks evidence of safety and long-term risk assessments. The white paper addresses the impacts of these GE trees, which could live hundreds of years, on forests, wildlife, pollinators and soils, on forests and wild ecosystems.
Safety Tests on the GE American chestnut tree are inconclusive
The D58 GE American chestnut tree has been engineered with an oxalate oxidase enzyme (OxO) from wheat that appears to limit, but not stop, the spread of chestnut blight (Cryphonectria parasitica) on juvenile American chestnut trees.
All D58 testing, however, was executed within a very short timeframe and on trees less than five years old. This cannot accurately predict long-term impacts on the trees as they age. Juvenile trees tend to be more resistant to blight, yet American chestnuts can live well over 200 years, facing fluctuating environmental conditions–drought, flood, heat, pests, storms and other changes associated with aging-over their lifespans. All these factors could influence how genes are expressed over time and whether or not the trees will retain blight resistance and withstand other challenges.
Researchers' rhetoric suggests the lifespan of the GE American chestnut will be the same as the wild American chestnuts, but there is no scientific evidence to support this.
The "Science" is oversimplified
Research on the GE American chestnut has occurred against a backdrop of efforts by many other researchers to engineer agricultural crop plants that are resistant to viral, bacterial and fungal pathogens. However, successful genetic engineering of pathogen resistance in plants has been remarkably elusive.

"A single gene construct, the oxalate oxidase enzyme (OxO) from wheat, is unlikely to be effective on its own in conferring durable blight resistance," said Dr. Rachel Smolker of Biofuelwatch. "One frequent problem is that engineering resistance to one pathogen often leaves plants more susceptible to other pathogens or stresses, or reduces plant growth significantly. Another problem is the loss of ability to withstand the pathogen over time. A modification that may initially be effective can be rendered ineffective as the pathogen adapts. Given such limited success with commonly cultivated and short-lived domestic crop plants, the prospects for successful and durable engineering of fungal pathogen resistance into a potentially long-lived wild forest tree species appear remote."
The behavior of the OxO modification over time could pose serious environmental threats to forest ecosystems and wildlife that may not be possible to reverse once released. In addition, the cumulative impacts from introducing this organism into already-stressed forests have not been researched.
Indigenous Sovereignty Concerns
The GE American chestnut also raises concerns about Indigenous peoples' territorial sovereignty, and the application of the UN's Free, Prior and Informed Consent (FPIC) requirement when dealing with issues impacting Indigenous peoples or their territories. Indigenous peoples whose traditional lands fall within the historical range of American chestnut trees and the regions where their GE counterparts are proposed for propagation must be consulted as part of the process of reviewing the D58 American chestnut.
Indigenous peoples have not consented to the release of this GE tree and the spread of D58 trees onto their territories is a violation of the FPIC mandate. Indigenous peoples in the regions of proposed D58 releases have expressed concern that unregulated distribution of a GE tree would violate their sovereign right to keep their territories free from genetically modified organisms.
NAS warns agencies ill-equipped to assess biotechnology and forest health
The NAS report, Forest Health and Biotechnology ; Possibilities and Considerationsraises flags that the preservation of forest health cannot be guaranteed by federal agencies if GE trees are deregulated for release into the wild. In addition to the USDA's Animal Plant Health Inspection Service, federal agencies charged with evaluating the risks of the GE D58 American chestnut include the Environmental Protection Agency and the Food and Drug Administration. The NAS writes, "There are no specific regulations or policies that those agencies apply to biotech trees. Forest health is not accounted for in the regulations for the use of biotechnology or for other approaches to mitigating forest tree insect pests or pathogens."
Great new interview with BJ McManama of @IENearth is up on the website! Listen and share as she discusses the GE American chestnut tree from an #Indigenous perspective:https://t.co/ZaC0R8nOTR#stopgetrees #keepforestswild #GMO #Americanchestnut

— Campaign to Stop GE Trees (@STOPGETREES) September 3, 2020
New interview: Dr. Rachel Smolker on the dangers of the genetically engineered #Americanchestnut tree.

Listen and share: https://t.co/ZYIH2Ql0oo #stopgetrees #keepforestswild #GMO

— Campaign to Stop GE Trees (@STOPGETREES) August 13, 2020
In this interview @AnneGJEP warns that approval of GE #Americanchestnut trees will open the door for the use of GE trees in industrial tree plantations. Such plantations are already having devastating social and economic impacts around the world.
👇https://t.co/Ung1okLqoc

— Campaign to Stop GE Trees (@STOPGETREES) September 9, 2020