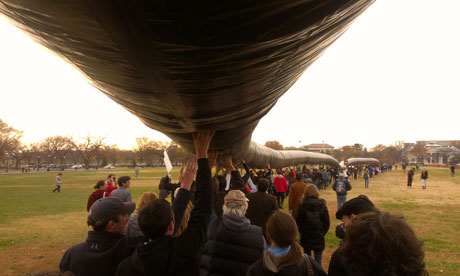 Cross Posted from The Guardian
Environmental activists protest against the Keystone XL pipeline on 18 November 2012. Photograph: 350.org
Hundreds of people who say they worry oil that would be carried theKeystone XL pipeline will accelerate climate change marched around the White House on Sunday, hoping to revive a movement credited with slowing down the permit process for the crude oil project.
The protesters chanted "Hey, Obama! We don't want no climate drama" and said they hoped the president's election-night promise to address climate change means he will reject the pipeline, which needs a presidential permit to cross into the United States from Canada.
"We're interested in sending a clear message to Obama," said Molly Pugh from nearby Alexandria, Virginia, marching with her husband and two-year-old daughter.
Pugh said she was deeply disappointed that Obama failed to talk about climate change during the recent presidential election campaign,addressing it only in his acceptance speech.
Sunday's protest drew far fewer people than a rally a year ago against TransCanada Corp's project, when thousands linked arms and encircled the White House.
Keith Bockus was at that protest, and hopes that Obama will block the pipeline in his second term now that he no longer faces the pressures of another election.
"I have five grandkids. I used to worry just about them. Now, I worry about my son and daughter too," Bockus said, explaining why took a red-eye bus from Hubbardston, Massachusetts, to get to Sunday's event.
Organisers said they were pleased by the crowds, which they estimated at 3,000 people, particularly since they arranged the protest only 10 days ago.
[youtube http://www.youtube.com/watch?v=ht5WsSfUHz4]They said they are working on a larger protest set for President's day on 18 February.
"It's no longer sort of a rag-tag bunch of kids – it's the very heart of the environmental movement," said Bill McKibben, president of 350.org, who helped lead the protest.
McKibben and other environmentalists argue crude extracted from the Canadian oil sands sends too much carbon dioxide into the atmosphere. Pipeline proponents argue the project will create thousands of jobs and reduce US dependence on oil imports from the Middle East.
The pipeline was designed to extend 1,661 miles from Hardisty, Alberta, to the Port Arthur, Texas, picking up oil from the booming Bakken region of North Dakota and Montana along the way.
Obama put the pipeline on hold in January, citing the need to review environmental concerns with a portion of the route in Nebraska.
TransCanada changed its route and reapplied for the permit. Nebraska's state government is expected to approve the new route by the end of the year, and Keystone proponents have urged the Obama administration to grant the permit soon afterward.
The State Department has said it does not anticipate concluding its review of the project before the first quarter of 2013.
Analysts have said they think Obama eventually will approve the pipeline but the timing of the decision is in question.
"I think if we can keep the pressure on, we have a chance," said Aimee Crane of Springfield, Virginia, helping carry a 500ft inflatable replica of an oil pipeline down Pennsylvania Avenue.
"It is David versus Goliath," she said, arms stretched high above her head.