by Lisa Wakeland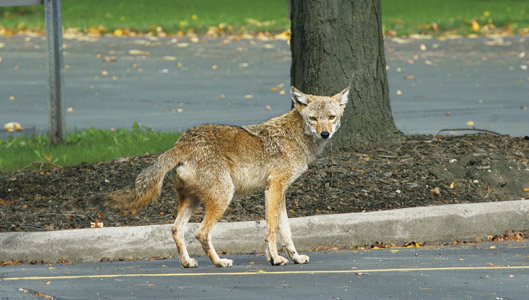 Mariemont officials are still considering a plan to reduce the coyote population in the village by allowing police to shoot and kill the animals in an 80-acre area.
Residents have recently reported hearing an increasing number of coyote howls at night and there have been coyote sightings throughout the village. Most reports are concentrated on the village's south side near Miami Bluff Drive and Mariemont Avenue.
The Safety Committee is considering allowing village police officers to use firearms in the south 80 acres—a farmland and wooded area behind the pool that abuts the Little Miami River—to shoot and kill coyotes to help control the population.
Police Chief Rick Hines suggested allowing a few police officers to hunt the coyotes in the south 80 acres, and said he's authorized his officers to shoot rabid or sick coyotes.
Councilman and Committee Chairman Dennis Wolter said at a recent meeting they're not going to be able to eliminate coyotes from the village, but a hunting program could help keep the population in check.
An Ohio Department of Natural Resources officer suggested the village first establish guidelines for killing problem coyotes, which the committee roughly defined as one that comes into the populated, residential areas or acts aggressive toward people or pets.
If that doesn't work, then the village should implement a hunting or trapping program to manage the coyote population, the Ohio Department of Natural Resources officer said.
Councilman Joe Stelzer said this problem should be addressed, but would like to have more data on when and where residents are seeing or hearing the coyotes.
"It sounds like we'll probably have to do something sooner rather than later, and we should have a plan that can be implemented when they're coming up past the (railroad) tracks or if there is an attack on the trails (in the south 80)," he said.
For the next couple months, village officials plan to track coyote sightings, better define a problem coyote, educate residents about the likely culling program, provide tips on deterring coyotes and create a more formal hunting plan to control the population of healthy coyotes.
If coyotes are spotted in the village, residents should call the police department, 271-4089, and report [Earth First! eds. note, do not report but do call and tell the police to leave the coyotes the fuck alone] the time, date and approximate location of the sighting.