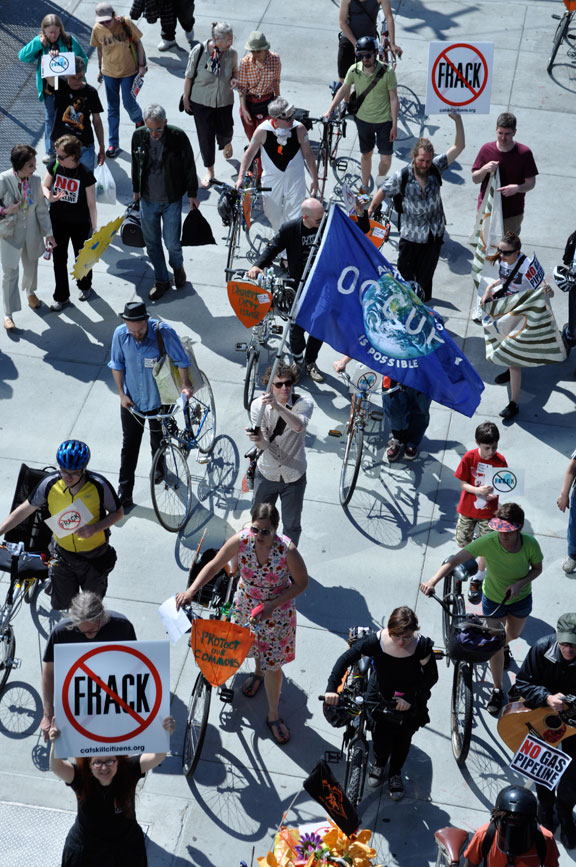 New York, NY- May 12-
Occupy Wall Street  partnered with Occupy Well Street, a regional, direct action oriented anti-fracking group, and other city and regional environmental groups to voice resistance to the Spectra Energy Natural Gas Pipeline and the issues associated with hydraulic fracturing. A broad coalition of groups were present, including New York's Sane Energy Project, Reverend Billy, OWS's Environmental Solidarity Group, Times Up, Eco-Buddies, and Earth First!. Colorful and joyful, many protesters arrived in a costumed bike brigade and participated in some clown trainings on Pier 54, the proposed entry point for the pipeline. Some of the groups present say they were acting in solidarity with a day of action called for May 19th by Occupy Well Street.
There was unity in the broad coalition in the message that those opposed to the Spectra Pipeline will not compromise in protecting the safety of their communities and will pursue a variety of strategies to see this project ended. "The Spectra Pipeline isn't being built in a vacuum," said a protestor affiliated with Occupy Well Street. "There is a natural gas boom in our region right now that's threatening our rivers, our homes and the eco-systems that we rely on. We stand in solidarity with all the groups resisting fracking and the transportation infrastructure that will allow the natural gas industry to expand."
The Spectra Pipeline is a 16 mile natural gas pipeline that will run through Jersey City, Hoboken, and Bayonne under the Hudson River to New York City's West Village. Spectra Energy claims that it will provide necessary natural gas for New York City and surrounding areas. Activist groups opposed to the pipeline claim that inadequate safety standards, a history of accidents and the fact that the gas will be provided by hydraulic fracturing in the Marcellus Shale are unacceptable risks for the highly populated areas the pipeline will pass through. There have been numerous protests at Federal Energy Regulatory Commission (FERC) hearings throughout the environmental review process. 
Opposition to the Spectra Pipeline is part of a growing movement in the region to oppose hydraulic fracturing, a process in which millions of gallons of mixed sand, chemicals and water are pumped more than 7000 feet underground to crack the shale formation and ease natural gas extraction. Occupy Well Street and other community groups claim that the process is a threat to aquifers and surface water supplies throughout the extent of the region and in all areas downstream. The Marcellus Shale, which extends 600 miles from southern New York through West Virginia, is slated to be the next big natural gas play in the Untied States, and corporations are ramping up production.
Occupy Well St. and related groups have been organizing protests at points of production and expect it to be a busy summer. "The Round River Rendezvous, the national Earth First! gathering, will be out here this summer," says an activist asking to be called Pitchfork, "That, and the things that come out of it, will give us a lot of momentum in the area." May 19th is hoped to be another stepping stone towards a stronger movement against extraction throughout Appalachia. Activists expect a final environmental review hearing from FERC on the Spectra Pipeline in June.
 For more information, visit OWS Stop Fracking.