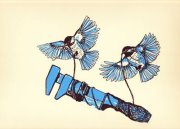 Well, it's a busy weekend out there for eco-activists between attempting to re-radicalize Earth Day and attending the various gatherings around the US . But for those in the Midwest, this is something you may want to shuffle your plans to make it out for:
"Join area activists in a weekend of workshops, trainings, and fun this weekend at the historic Gosport Opera House in Gosport, Indiana. Happening just 30 minutes northwest of Bloomington, the Big M.A.C. will be a great opportunity to meet other folks from the region working on social and environmental justice, and learn from one another ways in which we can create the kind of world we all want to live in.
-Learn about different direct action tactics and try them out for yourself
-Make large banners and puppets for future actions
-Learn basic climbing skills and share your knowledge
-Network with other people working on similar issues in the Midwest
-Enjoy a dance party, film screening, and talent show (!)
-Eat yummy food prepared by Bloomington Food Not Bombs
Sleeping accommodations will be provided inside the opera house, but folks should bring their own sleeping bags or blankets. Food Not Bombs will provide three meals on Saturday and Sunday; people are encouraged to come early on Friday to help with set-up, but are expected to provide their own dinner that night. Things start at 9am on Saturday, April 21st, and run through 7pm on Sunday.
What to bring: bowl and silverware, sleeping bags/blankets, musical instruments, toothbrushes/twigs, toilet paper (srsly), snack attacks, comfy clothes and sturdy shoes, dance moves.
There is a suggested donation of ~$25 for the weekend, which includes food and the costs of putting on the event. However, absolutely no one will be turned away for lack of funds.
We look forward to seeing you in Gosport!
For those on facebook, check these links:  Event page    or   Fan page