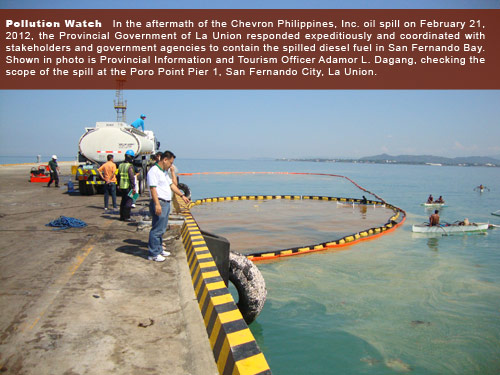 DAGUPAN CITY — The militant fisherfolk alliance Pambansang Lakas ng Kilusang Mamamalakaya ng Pilipinas (Pamalakaya) is pressuring La Union Governor Manuel Ortega to demand damage compensation for oil spilled affected fishermen in San Fernando City from Chevron Philippines, Inc.
Ortega recently called for an investigation after thousands of liters of oil leaked from the depot's pipelines in February. In a press statement, Pamalakaya national chairperson Fernando Hicap welcomed the probe ordered by Ortega and the cease and desist order issued by the Environmental Management Bureau (EMB) against operators of oil depot at Poro Point.
But the fisherfolk leader said the aside from the environmental impact, local leaders and environment officials should also look into the economic impact of the oil spill to poor fisherfolk and other villagers sourcing their day-to-day livelihood from fishing.
Antonio Nebrida, Chevron's assistant manager for policy, government and public affairs, said the company has deployed our environmental consultants to San Fernando to evaluate and assess the effect of the incident on the local community and marine life.
"Ortega and EMB officials should not dilly-dally in charging officials of Chevron Philippines in the name of accountability, and social and environmental justice citing the lingering damage of the oil spill to the livelihood of small fishermen and marine environment," he said.
EMB regional director Joel Salvador recounted the leak occurred when MV Panglao was discharging oil into the pipelines of Chevron Philippines Inc. (CPI), one of the companies that share the depot along with Shell and Petron.
The oil spill affects corals, sea grass and sea beds where fishes, crustaceans and other sea organisms live. These toxins can also be ingested by clams, oysters and sea urchins and can be passed to the food chain, also leading to a decline in fish supply and catch.