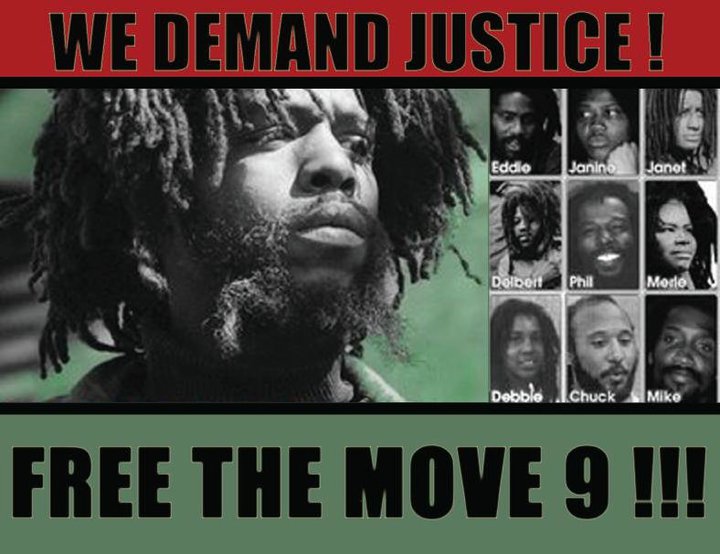 The EF! Journal received love and appreciation from behind the bars, deep in the belly of the US injustice system. Two members of the incarcerated MOVE 9, who are still imprisoned for their efforts towards black liberation in the seventies, wrote to express how much they appreciate receiving news that Earth First! is going strong and fighting for what's right, for nature and life.
They also outreached for solidarity. They're asking for folks to write to their parole board. Copy, paste, fill out and sign the letter below:
Date:
PA. Board Of Probation And Parole/ Central Office
Riverfront Office Center
1101 South Front Street
Harrisburg, PA. 17104
717 787-5699
It is on behalf of the incarcerated members of MOVE—Charles Sims Africa, Delbert Orr Africa, Eddie Goodman Africa, Janine Phillips Africa, Mike Davis Africa, William Phillips Africa, Janet Holloway Africa, Debbie Sims Africa (and 'Merle Auston Africa' who passed away on March 17th, 1998 after 20 years of unjust imprisonment)—that I write this letter. These men and women have served over 33 years of a 30-100 years sentence. They have been in prison 3 years beyond the minimum sentencing and have been denied parole 3 times, despite meeting all the requirements requested of them for parole. All of the MOVE members have maintained their innocence and the evidence presented during their trial points to the same. Judge Edward Malmed, who convicted all nine of the MOVE members of third degree murder, on just verbal testimony from some of the police, admitted after their trial that he didn't have "the faintest idea" who killed James Ramp, which means the same applies for all those who claimed to have been shot that day of August 8th, 1978.
I write to urge the Board of probation and parole members to correct this great injustice and approve the release of the remaining members of MOVE.
Sincerely,
On behalf of Janine Phillips Africa #006309, Debbie Sims Africa #006307, Janet Hollaway Africa #006308, Merle Auston Africa #006306, Edward Goodman Africa #AM-4974, Charles Sims Africa #AM-4975, William Phillips Africa #AM 4984, Delbert Orr Africa #AM 4985
Write to the MOVE 9 at the following addresses:
Debbie Sims Africa #006307; Janet Hollaway Africa #006308; Janine Phillips Africa #6309
451 Fullerton Ave.
Cambridge Springs, PA. 16403-1238
William Phillips Africa #AM 4984; Delbert Orr Africa #AM 4985
1000 Follies Rd.
Dallas, PA. 18612
Charles Sims Africa #AM4975
660 State Route 11
Hunlock Creek, PA 18621-3136
Michael Davis Africa #AM 4973
P.O. Box 244
Graterford, PA. 19426-0246
Edward Goodman Africa #AM 4974
301 Morea Road, Frackville, PA 17932
CONTACT US THROUGH ANY OF THE FOLLOWING:
THE MOVE ORGANIZATION
P.O. Box 19709 Phila., PA. 19143
onamovellja@aol.com
Phone: (215) 386-1165