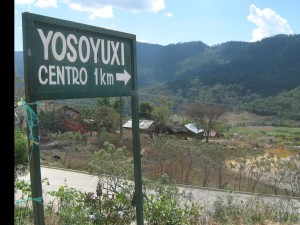 By x carolina
Now it's back to the streets, or rather the mountain highways of Oaxaca for the Triqui comrades expelled under fire from the Autonomous Municipality of San Juan Copala on September 27, 2010. After 15 days of frustrating, deceitful negotiations, the Gabino Cue government was unwilling to keep its promise of guaranteeing a safe return to their homes. So the displaced Triquis announced an 80-mile march-caravan for Tuesday, February 7, from Yucudaá to the City of Oaxaca to take their demands for social justice to the forum of public opinion.
They want to go home. They want justice. They want to live in peace.
Carmen calls down several functionaries of the Gabino Cue government in Yosoyuxi, Oaxaca, the night of February 4: "For a year and a half we've withstood hardships in the encampment in Oaxaca City. And what have you done about it? Not a thing… And what about Antonio Cruz Pájaro? Have you arrested him? Have you locked up the killers? The truth is, you're protecting them…We still haven't been able to go back to San Juan Copala. Why should we have to go through all this? We don't need it ––hunger, cold, being kept out of our town, our homes, the places that belongs to us…But you're not going to scare us or intimidate us. We're keeping on. We're going back to San Juan Copala no matter what. Nobody here will say no. Why? Because it's our obligation to return. Why? Because that's where we're from…What we want is justice and a return to San Juan Copala".
To read full article,see source as cross-posted from here