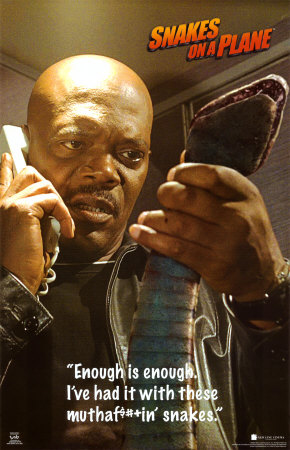 A recent article from the journal of the National Academy of Sciences (NAS) reports that observations of some mammal species have declined by more than 99% in parts of the Everglades, due primarily to giant non-native invasive pythons. Yeah, it's scary, but to be honest, here at the Earth First! Newswire, we're a bit tired of hearing about it. Why hasn't the NAS issued a report on the impacts of having the largest fossil fuel power plants in the entire country in this watershed? Y'all know we already have the top two, and now the motherf#@kers at FPL are proposing the third largest fossil plant over in Hendry County, in primary Florida panther habitat no less.
The debate over whether the python's threat is really worth all the hype that the state is giving it is raging here in the EF! Journal office. The phone is ringing off the hook.
Here's one anonymous EF!er's take: "I know the Everglades are plenty fucked up by industrial targets, but no rabbits anymore and a 99% drop in other species?  That seems fairly major to me and likely will have visible impacts sooner rather than later on at least the predator end of the food chain. You'll notice the deer are way down also, so hunters are likely going to notice… Covert EF! snake hunts?  Fun, and python tacos for everyone!"   Ok, so the phones aren't really ringing off the hook, but someone did really send us this in an email. Are you confused on where we stand yet? Well, so are we.

On a possibly brighter note, at least for you misanthropes out there, it seems the snakes may also also be playing a minor role in reducing the numbers of the Earth's most destructive native invasive species–the US Humane Society recently told Associated Press that at least 12 people have been killed in the US by pet pythons between 1980 and 2009.
In the meantime, if any of you wildlife biologists out there are also sniffing a possible conspiracy of mass distraction and are interested in going toe-to-toe with the National Academy, get in touch with us. You could get a chance to be published in the prestigious Earth First! Journal…