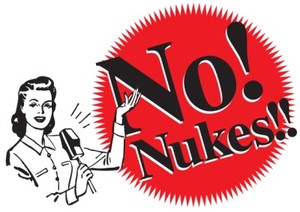 A New York State Assembly hearing being held to determine the fate of the Indian Point nuclear plant was disrupted by Occupy Wall St. protesters on January 12.  As government officials and Entergy (the operators of Indian Point) employees lied through their teeth about the safety and necessity of the plant, Luna Scarano of Brooklyn took the floor and read the following statement which was repeated by others in the room:
"Indian Point is old, dangerous and unnecessary. Community members who have worked for decades to close Indian Point have been denied a voice at this hearing.
"Indian Point is old, dangerous and unnecessary, a Fukushima waiting to
happen on the Hudson. In the event of a meltdown, there would be no way of
evacuating the 20 million people who live within a 50 mile radius of the
plant.
"Entergy is recklessly endangering all of us, radiating the Hudson and
killing millions of fish per year. For what? For providing a small fraction
of New York City's electricity. We demand that Indian Point be shut down now, before there is a meltdown."
As the crowd raised a ruckus on the inside, protesters outside lined the entrance to the hearing with signs reading, "Shut Down Indian Point!" The Nuclear Regulatory Commission is currently considering extending the operating license for Indian Point for another 20 years.