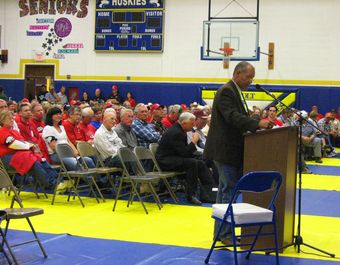 Cross Posted from Insideclimatenews.com
Transcripts from the [public State Department] hearings [about Keystone XL], along with any written comments that were submitted, are being organized into a reader-friendly format, although the spokeswomen could not say when that process will be completed. Agency staff members are supervising the work with help from Cardno Entrix, the consulting firm that prepared the Environmental Impact Statement and helped organize the hearings.
The State Department has been criticized for hiring Cardno Entrix, because the firm counts TransCanada—the Alberta-based company that wants to build the pipeline—as a "major client," and TransCanada paid for the environmental assessment that Cardno Entrix did under the auspices of the government. Last week, 14 members of Congress called for an investigation into possible conflicts of interest in the pipeline review, including Cardno Entrix's role in the process.
Cardno Entrix's involvement in tabulating the public comments is of particular concern to Kate Colarulli, associate campaign director for the Sierra Club's Beyond Oil campaign.
From April through June, her organization worked with seven other anti-pipeline groups to collect 269,000 written comments from their members. They submitted them electronically to a Cardno Entrix email address set up for that purpose.
But in July, when the Sierra Club checked the website that Carno Entrix maintains for the State Department, Colarulli said her office found that the company's count came up short by 94,000 comments. About 25,000 of the missing comments were written by Sierra Club members, she said.
"So we reached out to [State Department official] Alex Yuan, just saying there's a discrepancy, this is pretty weird," Colarulli said. "Mr. Yuan was pretty concerned."
Yuan told the Sierra Club to load the missing comments onto CDs and mail them to the State Department, Colarulli said. Two days later, Yuan "wrote us back and said never mind … we're not willing to take these comments."
Colarulli said the agency still hasn't explained its actions. "At this point we've given up on thinking the State Department is going to fix this problem," she said. State Department officials had a chance to solve the problem and they "chose not to. So I think that raises concerns about what role the [agency] is playing."
The State Department did not respond to questions about the missing comments or a request to interview Mr. Yuan. Cardno Entrix referred questions to the State Department.
The agency's final decision on whether the Keystone XL should be built had been expected before the end of the year, but a government official recently indicated it might be delayed until early 2012. If approved, the pipeline would pump up to 830,000 barrels of tar sands crude oil per day from Alberta to the Gulf Coast.