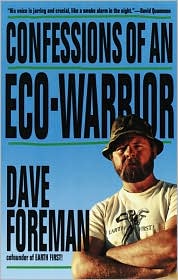 A co-founder and former editor of the Earth First! Journal, Dave Foreman, once again spotlighted for his association with Apply The Brakes and other anti-immigrant organizations. This time by the Center for New Community's new article, "Environmentalists Risk Reputations by Aligning with Bigots," By Jesse Sanes. The following is an excerpt:
In a blog post on the website of Californians for Population Stabilization (CAPS), environmentalist Dave Foreman got a great deal of praise for his recent book Man Swarm [Ravens Eye Press LLC, 2011] and his message of overpopulation reeking havoc on the world's ecological systems. The author of the article, Leon Kolankiewicz, is a familiar face from anti-immigrant circles. He is both on Tanton-network front group Progressives for Immigration Reform's advisory team and is an advisory board member of CAPS.
CAPS is California's leading anti-immigrant organization and is listed on FAIR's website as a state contact. CAPS, like FAIR, has received funding from the Pioneer Fund, a foundation that has a long history of promoting the genetic superiority of white, European-Americans through the study of eugenics. Kolankiewicz is also the co-creator of the Sprawl City website, writes for Center for Immigration Studies, and is a former member of Carrying Capacity Network. The Carrying Capacity Network's president, Virginia Abernethy, is a self-described white separatist.
For Dave Foreman's part, a long-time ecology activist, he is an Apply the Breaks leader, an organization that helped pioneer the current anti-immigrant co-optation of the environmental movement. He also founded The Rewilding Institute (TWI), which received funding from the Weeden Foundation so that TWI and Apply the Brakes could  "work closely […] to get conservation groups and activists to endorse a position recognizing the role of population growth in harming biodiversity and causing climate change."       Click to continue reading the article