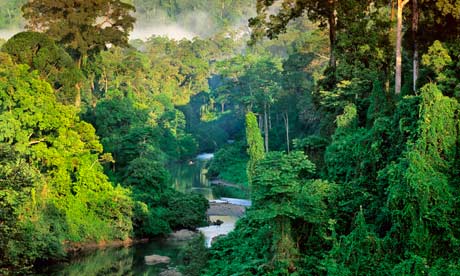 WWF is accused of letting timber companies use its logo while they were razing rainforests, such as this one in Borneo. Photograph: Frans Lanting/Corbis
Excerpts from recent Guardian articles
The WWF's flagship Global forest and trade network (Gftn), which is part-subsidised by the US government and EU, promotes sustainable timber, bringing together more than 70 international logging companies and large numbers of timber sellers. The WWF says the 20-year-old scheme is now responsible for nearly 19% of forest products bought or sold internationally.
WWF, which is celebrating its 50th anniversary this year, makes about $500m a year from donations and corporate endorsements but has been criticised by other environment groups and NGOs for its links to forestry, mining, tobacco, banks, palm oil, biofuel and other companies. Last month a German public broadcaster accused WWF of being too close to GM food companies working in Latin America. The charge was strongly denied by WWF, which argues that it seeks a "constructive dialogue" with industries. GM soybeans have been certified as "sustainable" by the Round Table on Responsible Soy Association (RTRS), an organisation instigated by the WWF.  Read full article
"In 2007 I visited a logging camp in the DRC. To my surprise there was a WWF office right in the middle of it"
Originally posted by John Vidal, July 25, 2011 at guardian.co.uk
Reading Global Witness' report this week on how WWF let timber companies use its panda brand logo while they were razing some of the world's most biologically rich rainforests, I was reminded of a trip I took to the Democratic Republic of the Congo in 2007.
I was in the village of Isangi on the south bank of the river Congo at its junction with the river Lomami. Isangi was up in arms. A foreign logging company called Safbois had been awarded, without the villagers' knowledge, a massive concession of more than 100,000 square miles just to the south of the town, and was now felling the forest for the precious Afrormosia tree, or African teak…   [Read the rest of the story here.]