By Panagioti Tsolkas, Earth First! Journal editorial collective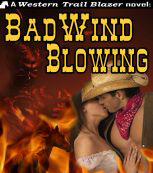 In a Palm Beach Post article from earlier this year: A St. Louis company, Wind Capital Group, says they hopes to build Florida's first wind farm, on thousands of acres of sugar land east of Belle Glade. The region is known as the Everglades Agricultural Area, and thought to be a crucial component to restoring the greater Everglades watershed. But has been increasingly  encroached upon by industrial development proposals, including rock mines, an 'inland port' and FPL's controversial 38oo megawatt West County Energy Center.
The company has been meeting with Palm Beach County planners to change to the county's development rules that would be needed before its turbines could be built. Now they are courting environmental groups to accept the proposed changes.
The Chamber of Commerce loves the idea of the $250 million project. "That is tremendous," Brenda Bunting, Executive Director of the Belle Glade Chamber of Commerce, said of the project. "We would be excited to see something like that come. We are always looking for things that benefit this community."
The company wants to build between 84 and 100 wind turbines, on land near the intersection of State Road 880 and Browns Farm Road. The150-megawatt turbines would stretch across 11,000 to 15,000 acres, said Robin Saiz, Wind Capital's director of project development. Each turbine would stand between 262 feet and 328 feet tall, roughly the height of a 30-story building.
Environmentalists say they are concerned spinning turbines could harm birds and bats. "There are a lot of questions that remain to be answered, before we jump on the wind energy bus," said Joanne Davis, a community planner with 1000 Friends of Florida.
Migratory birds flying through the region could be struck by the fast-moving blades. The endangered snail kite, for one, could be devastated if even a few were killed, environmentalists say. "When you talk about birds like the snail kite, we can't afford to have any mortality," said Drew Martin, conservation chairman for the Sierra Club's Loxahatchee Group.
In June 2007, Florida Power & Light Co. announced plans to build the first wind farm in Florida, on Hutchinson Island, 8 miles south of Fort Pierce in St. Lucie County. The plan met resistance from nearby residents and wildlife biologists and has been put on hold.
Wind Capital says it hopes to have its turbines running by the end of next year.
In other news on industrial wind: A Campaign by the American Bird Conservancy pushes for mandatory standards on turbines
[youtube=http://www.youtube.com/watch?v=QRSAvD8VAbI&w=640&h=390]

 In a June 14, 2011 press release, the American Bird Conservancy (ABC) stated the US Fish & Wildlife Service (FWS) says it received nearly 30,000 comments on the draft Wind Energy Guidelines and Eagle Conservation Plan Guidance. About 21,000 comments coming through the efforts of ABC calling for mandatory wind energy standards and mitigation for impacts to wildlife and habitat. The comment letter sent by ABC and other groups is available at http://www.abcbirds.org/Wind_Guidelines_Comment_Letter.pdf.
Nearly 30,000 was an unusually large number of comments for the Division of Habitat and Resource Conservation, which took the comments down from the FWS wind energy website after running into technical trouble posting them.
Meanwhile in Maine…
Last July, four demonstrators were arrested while blocking a turbine blade from reaching the development site of the Kibby Mountain Wind Project. The four protesters are expected to face a jury trial in Franklin County Superior Court in Farmington beginning Monday, June 20th.
Courtney Butcher was charged with criminal trespassing. Erik Gillard, Ana Rodriguez, and Willow Cordes-Eklund were all charged with failure to disperse. Cordes-Eklund was arrested after U-Locking her neck beneath a tractor-trailer carrying a 15-ton turbine blade on Rt. 27.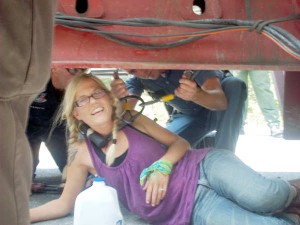 Over 60 protesters gathered on the morning of July 6, 2010 at the development site to oppose the construction of 22 industrial wind turbines on the ridge of Kibby Mountain. The protestors claim that industrial wind development destroys the delicate Alpine ecosystems of Maine's western boundary mountains. Protestors also object to Kibby Mountain wind developer TransCanada's involvement in the practice of tar-sands oil extraction in Alberta, Canada.  The activists claim this shows that TransCanada is not interested in green energy, one of the supposed justifications for the Kibby project and other wind developments in Maine.
"We recognize the value of developing alternative energy systems," said protester Meg Gilmartin of Maine Earth First! at the time of the blockade. "But these projects are an example of how corporations take advantage of the climate and energy crises to make profits while avoiding accountability. This is pristine, sensitive ecosystem being destroyed for a project that will not displace any fossil fuel energies from the grid."
The protest preceded a Land Use Regulation Commission meeting on July 7th, where a plan for additional 15 turbines on neighboring Sisk Mountain was voted down. A later version of the proposal was approved in January. Friends of the Boundary Mountains has since filed an appeal to the Maine Supreme Court to overturn the approval, citing violation of due process, as there was no public hearing for the second Sisk Mountain proposal.
Noted for it's extreme ecosystem sensitivity, development on Sisk Mountain was opposed by such groups as Maine Audubon Society, Appalachian Mountain Club, Natural Resources Council of Maine, Maine Earth First!, The Native Forest Network, Friends of the Boundary Mountains, and the Citizen's Task Force on Wind Power.
For more on impacts of industrial wind on wildlife, check out other recent press releases from ABC:
Conservation Groups, Thousands of Citizens Call on Feds to Protect Birds from Wind Turbines, May 19, 2011. View Release
Dramatic Video Shows Bird Strike at Wind Turbine: One Bird Currently Killed Every Minute by Wind Power in the US, April 5, 2011. View Release
Bird Group Says Cancellation of North Dakota Wind Farm Reflects Seriousness of Bird Issues April 4, 2011. View Release
Call for Public Debate on Wind Power after Misleading Industry Release on Bird Deaths March 3, 2011. View Release
New Federal Guidelines on Wind Farm Will Not Stop Bird Deaths. February 8, 2011. View Release
Wind Power Could Kill Millions of Birds Per Year by 2030. February 2, 2011. View Release
Wind Development Threatens Iconic American Birds. December 29, 2011. View Release