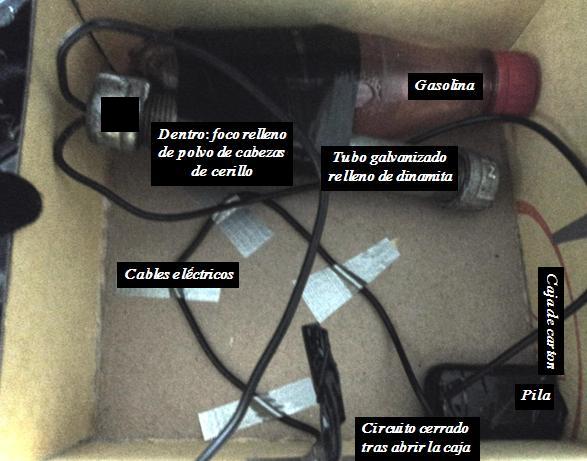 On April 19, news sources in Mexico reported a bomb exploding at Universidad Politécnica in Valle de Mexico, located in the vicinity of the town of Tultitlan (in the neighborhood of Villa Esmeralda), on the border with Izcalli. While El Universal initially reported an accidental injury to a worker at the campus, El Sol de México later reported there were "no injuries or material damage."
Both news sources claimed that it was unknown who could be the perpetrators of the blasts, and according to El Sol, "It is suspected that the authors may be students pranksters."
Several blog entries posted later that month suggest that the author may have had another motivation. A communique claimed by "Individualists tending toward the wild," dated April 14, 2011, begins with this line: "If you think that I am a pessimist, then you have not understood anything." It continues on with a thorough explanation of why the head of the Engineering Division in Nanotechnology, Prof. Oscar Alberto Camacho Olguin, was the chosen target of this explosive:
"…In recent years there has been significant progress in American countries like the United States, Canada, Brazil and also Mexico, where there has been an accumulation of domestic and foreign capital for the creation of nano-scale technology.

Nanotechnology is the furthest advancement that may yet exist in the history of anthropocentric progress. It consists in the total study, the scrutiny into the manipulation and domination of all the smallest elements, invisible to human eyes. With this humans have managed to control everything, absolutely everything, from changes in the climate to the smallest atomic molecule. Civilization, aside from threatening our freedom as Individuals, the freedom of the Animals and of the Earth, now passes its threat even to the scale of less than a micrometer.

National institutions and corporations that conduct rigorous studies and research for the commercial development of Nano-bio-science are varied; they range from the Instituto Mexicano del Petroleo (IMP) with the help of Pemex and CFE, the Universidad Nacional Autonoma de Mexico (UNAM), Universidad Autonoma Metropolitana (UAM), Universidad Iberoamericana, the Instituto Potosino de Investigación Científica y Tecnológica (among others) with its Environmental Nanotechnology University Project; Glaxo SmithKline, Unilever, Syngenta, among others.

This type of technology is growing, the branches that it has encompassed can scarcely be counted (medicine, military, cosmetology, petrochemistry, nuclear, electro-informatics) but these are just the beginnings of what it can encompass…"
By the end, the author of the communique seems to get a bit depressed. But it finishes off with the sort of zeal that only the deepest of eco-nihilists can manifest. Uncle Ted? Is that you?!?
"…And although all this is useless and futile, we prefer to be defeated in a war against total domination than to remain inert, waiting, passive, or as part of all this. We prefer to position ourselves on the side of Wild Fauna and Flora that remain. We prefer to return to nature, respect her absolutely, and abandon the cities to maintain our claims as Anti-civilization Warriors. We prefer to continue the War that we have declared years ago, knowing that we will lose, but promising ourselves that we will give our greatest effort. Because although some elements within Civilization tell us that we have been domesticated for years biologically, we nevertheless continue to have Wild Instincts that we hurl in defense of the whole of which we are a part—the Earth."
The entire translated communique can be found here. Or in Spanish here.