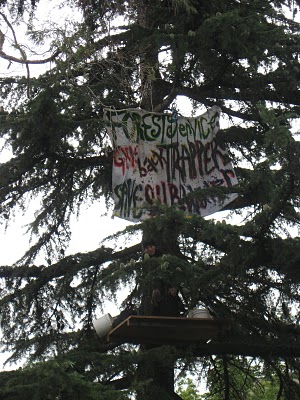 Early Saturday morning a group of activists with Cascadia Rising Tide set up a platform 40 feet off the ground in a tree on the corner of Oak St and Park St. In that same tree, a banner was hung that read "Forest Service: Give Back Trapper. Protect Our Water." The platform was occupied by Grace Warner to inform Eugene of the horrendous logging practices advocated by the Forest Service, as well as threats to the drinking water supply that the Trapper timber sale poses.
Law enforcement kept a comfortable distance, not showing their presence at the demonstration. The group gained support from Saturday Market staff and vendors alike. Check out media coverage on the channel 9 evening news below (starting at 5:50 into the video). Warner stayed in the tree until the end of market and left on her own accord.
The rally to protect the Trapper is only one of the most recent manifestations of the lasting campaign to protect the McKenzie Watershed in the Willamette National Forest. One of the most famous campaigns in this bioregion was Warner Creek free state, which lasted for years and resulted in an eventual victory for Earth First!
Among the banners raised in the most recent demonstration declared "Be Ready for a Fight!"
For more information, visit the Save Trapper! blog or Forest Defense Now.